There will be more investment opportunities than challenges in the country next year despite the global economic crisis, Deputy Minister of Planning and Investment Nguyen Chi Dung told the Vietnam International Investment Conference in Ho Chi Minh City on Tuesday.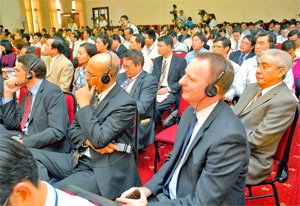 At the conference (Photo: SGGP)
The Government's ongoing monetary loosening efforts would soon yield results, reviving companies, he said.
 
Foreign direct investment would remain a priority in areas like high technology, urban infrastructure, and human resources development for the education and health sectors, he added.
 
Mr. Dung hoped the Government's measures would create a more favorable investment and business environment for foreign investors.
 
Foreign-invested enterprises account for 45 percent of the country's total foreign trade and employ 1.42 million workers, he said.
 
The chairman of the European Chamber of Commerce in Vietnam, Alain Cany, said though Vietnam's economy overheated earlier this year, its economic indexes improved in the third quarter.
 
The stock market's fall gives the bond market a chance to thrive, he pointed out.
Mentioning the challenges facing the Vietnamese economy due to the global economic crisis, he said, however: "Foreign interest in Vietnamese equities is still strong, despite recent outflows. Vietnam continues to be one of the few emerging economies with a net inflow of portfolio investment this year."
 
Foreign direct investors are still interested in Vietnam, pouring in US$57 billion in the first nine month of the year, Mr. Cany added.
 
Don Lam, CEO of leading asset management group VinaCapital, said his group has raised $1.77 billion from foreign investors during its five-year presence in Vietnam.
 
HCMC Party Secretary Le Thanh Hai said this year's conference had attracted many foreign investors, proving Vietnam is an attractive destination for global investors.
 
This is partly thanks to the Government's rational investment attraction policy and the country's high growth rates for the last many years, Mr. Hai added.
 
A delegate said the country's banking system is protected from the global contagion because it remains closed.
 
Another said Vietnam's exports are likely to fall because major import markets like the US, EU, and Japan are likely to reduce their imports. But the impact would not be severe, he predicted.
 
Economists agreed that Vietnam has not been directly affected by the crisis since its financial system has yet to integrate deeply with the international system.