Vietnam's retail market is forecast to explode over the next two or three years, with the appearance on high streets of many foreign retail companies, including shopping centers and large sized supermarkets, said Fabrice Carrasco, general director of TNS WorldPanel Vietnam on October 30.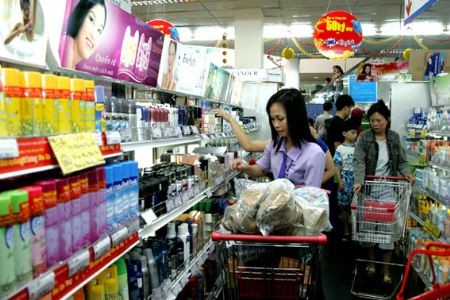 Shoppers in a supermarket in Vietnam
Speaking at a retail and distribution conference held in Ho Chi Minh City, Mr. Carrasco said Vietnam's retail market is smaller than that of other countries in Southeast Asia, such as Thailand, Malaysia and Philippine, however, Vietnam's consumer habits are changing sharply.
According to RNCOS, a global market research company based in the US, retail turnover in Vietnam will top US$85 billion in 2012.
Vietnam's retail turnover was $23.7 billion in 2008 and is expected to rise to $39 billion by the end of this year.
Bui Ngoc Hong, a law consultant at Indochina Counsel, said foreign firms have been eyeing retail and distribution business in Vietnam.
Indochina Counsel has alone supported seven foreign retail companies, which will appear on Vietnam's high streets in the next two years, Mr. Hong said.
2009 is considered an important milestone year for trading and distribution sectors in Vietnam. Distribution in Vietnam is set for a shake up, as foreign companies move in following the country's commitment to open the market in 2009, on the back of World Trade Organization accession in 2007.
As a result, firms from abroad have been setting up shop here since early this year, particularly firms from Japan, though no official statistics are currently available.
Japanese sewing machine manufacturer Brother International recently won a license to set up a distribution company with an initial investment of $2 million.
Stainless steel and construction material producer Sojitz opened an import, export and distribution branch in March.
Car manufacturer Nissan and electronics producer Sharp have both started distributing their own products.
According to the Ministry of Industry and Trade, Vietnam's annual retail turnover has increased by 20 percent, on average, over the last few years and is forecast to maintain the same growth for the near future.