The General Statistics Office announced on June 24 that Vietnam's consumer price index (CPI) in June fell the first time in 38 months by 0.26 percent over the previous month.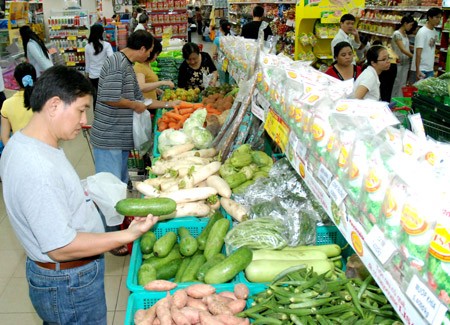 Vietnam's consumer index falls 0.26 percent in June 2012. (Photo: SGGP)
In the first six months of this year, Vietnam's CPI rose 12.2 percent compared to the same period last year, and 2.52 percent compared to December last year.
According to experts, although the cap on interest rate dropped to 9 percent per annum, Vietnam still maintains a positive interest rate with the current CPI level.
Restaurant and catering services fell by 0.23 percent over the previous month, of which food saw a sharp drop of 0.78 percent; foodstuff declined by 0.31 percent; and eating-out rose by 0.6 percent.
Transport services sank by 1.64 percent due to fuel price cuts; housing, power, water, fuel, and construction materials dropped by 1.21 percent; post and telecommunication services declined by 0.02 percent; and cultural entertainment and tourism reduced 0.27 percent.
Meanwhile, beverages and cigarettes surged by 0.33 percent; garments, hats and footwear climbed 0.62 percent; household appliances, medicines and health care services soared 0.46 percent; education inched up 0.1 percent; and other services edged 0.35 percent.