Vietnam's consumer price index (CPI) rose in May by 0.18 per cent over April, according to the General Statistics Office.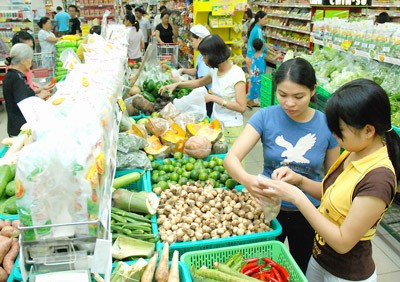 The price of food and food services in May 2012 go down 0.14 per cent compared to April. (Photo: SGGP)
In May, the price of food and food services continued to go down compared to April, with a 0.14 per cent reduction, although eating out surged 0.66 per cent due to a long holiday break at the beginning of this month.
Thus, CPI climbed 2.78 per cent compared with December last year, and 13.3 per cent compared to the first five months of 2011.
CPI started to decline from mid-2011 and dropped significantly in recent months. CPI rose 1 per cent in January, 1.37 per cent in February, 0.16 per cent in March, and just 0.05 per cent in April.
Among the cities and provinces, Ho Chi Minh City saw the lowest month-on-month rise in May 2012 with an increase of 0.06 per cent from the previous month, the weakest level in the past 21 months, according to the HCMC Statistics office.
Meanwhile, Hanoi's CPI increased by 0.16 per cent; Da Nang City's soared 0.3 per cent; and Khanh Hoa Province's shot up 0.29 per cent in May.