Bilateral and multilateral trade pacts will make Vietnam a garment and textile production center in the world, said economic experts.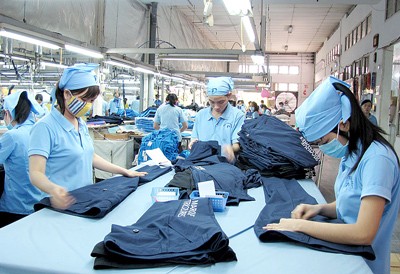 TPP and EVFTA will boost Vietnam's garment and textile growth (Photo: SGGP)
Vietnam is negotiating for Trans-Pacific Partnership Agreement (TPP) and Vietnam-EU Free Trade Agreement, which are expected to be applied in the next couple of years.
When these agreements are signed, Vietnamese garment and textile products will enjoy zero percent tax rate in the US and EU. The average tax rates are 17.5 percent and 9.6 percent in these two markets respectively.
One of the US' conditions for the zero percent tax rate is that fibres must be produced in Vietnam or other TPP countries. Most countries with TPP have not developed the fibre industry yet, forcing Vietnam to produce domestically.
EU also imposes conditions on fabric production.
The textile and garment industry consumed 7.4 billion square meters of fabrics in 2013 when export turnover reached US$20 billion, according to the Vietnam Textile and Apparel Association (VITAS).
Of these, 1.4 billion square meters were domestically made. The remaining was imported.
Both quantity and quality of domestically-made fabrics fail to meet export requirements. The weakest phases are from weaving and dyeing. 
Vietnam textile and garment export grows 15-17 percent per year since 2007, said Nguyen Van Tuan, deputy head of the Vietnam Cotton and Spinning Association cum deputy secretary general of VITAS.
The export turnover is estimated to reach US$40 billion by 2020-2025, requiring 12 billion square meters of fabrics and five million workers.
At present, Vietnam export to the US and EU is still limited, according to experts.
The US and EU markets spent US$105 billion and US$260 billion on garment and textile products last year. However, Vietnam export is accounted for only 8 percent and 3 percent of their market share respectively.
Sixty percent of 90 million Vietnamese are in working age, which will be a good human resource supply to develop the garment and textile industry.
Several economic experts in the world believed that Vietnam will become the world center of garment and textile production, said Tuan.
China used to occupy 50 percent of the global supply. However the country export has reduced to only 40 percent due to environment pollution, increasing production costs and shortage of human resources.
Meantime, there are several risks in other export countries like Bangladesh, Pakistan, Cambodia and Myanmar. Thailand lays down fashion retail as a policy instead of production.