Professor Nguyen Huu Dat, Director of the Center for Plant Quarantine said on January 15 that the first month of 2015, more eight longan lots was exported to the United States market, after the first fresh longan lot of Vietnam exported to this market in December 2014.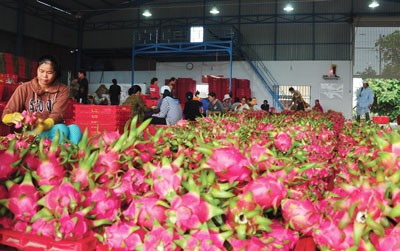 Vietnamese dragon fruits have been exported to many international markets (Photo: SGGP)
In addition, Vietnam is going to export fresh lychee, mango and star apple to US this year since the Plant Health Inspection Service (APHIS) of pest risk assessment (PRA) has agreed about these fruits' quality.
Many different international markets have okayed to import Vietnamese fruits.
For instance, Vietnamese fresh mango has been imported to Korean market and star apple will be continued to import to this country. Vietnamese fruit exporters also plan to sell various fruits such as fresh mangosteen and plum to China.
Australian experts in Ho Chi Minh City have checked the process of carrying out the quarantine quality for the importing mango and dragon fruits.
Mr Nguyen Xuan Hong, director of the Ministry of Agriculture and Rural Development's (MARD) Plant Protection Department said Vietnam and New Zealand has signed a program to ensure the quality of dragon fruits which is expected to export to New Zealand in 2015.
The department has sent files and documents of four flowers including rose, carnation, daisy and auspicious to New Zealand for the export approval.