According to the Italian Chamber of Commerce in Vietnam (ICHAM) in Vietnam, a Free-Trade-Agreement (FTA) with the Euro Union (EU) will give Vietnam's businesses great advantages.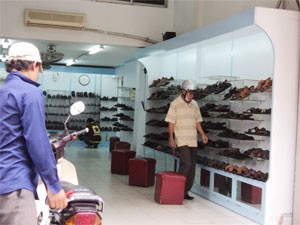 Vietnam's exporters in textile, footwear and seafood sectors will achieve great benefits from the FTA between Vietnam and the EU (Photo:Minh Tri)
They comprise of more investments, high technologies and high-quality exported products with high values from the European countries.
Vietnam's textile, seafood and footwear will gain great benefits from the FTA, of which the EU will reduce imported taxes on Vietnam's products, said professor Claudio Dordi, head of the Multilateral Trade Assistance Project III.
Vietnam's Association of Foreign Invested Enterprises (VAFIE) noticed local exporters always had to cope with tough challenges from entering the European markets due to their extremely high requirements of quality, environmental standards, intellectual property and product origin.
ICHAM chairman Masimiliano Guelfo said at a meeting last week that after Vietnam inks the FTA with the EU, associations of foreign invested enterprises in Vietnam should negotiate a tax reduction in electrical appliances, machineries, wine and whisky, processing foods and medicines.
To meet up the EU's consumption requirements, local businesses should improve their quality and focus more on making environment-friendly products, Guelfo said.
"According to Vietnam's World Trade Organization commitments, Vietnam will allow foreign-owned firms providing financial services to open in the country. Therefore, local companies are set to cope with a fierce competition as the EU is very strong at service sector," said Nguyen Van Toan, vice chairman of the VAFIE.
The EU is considered as the world's industrial zone with the total population of around 500 million and the gross domestic product (GDP) of nearly U$20 trillion.
It is one of Vietnam's main importers, with the export turnover surging to $15.4 billion last year from $5.6 billion in 2005.
The nine-member delegation from the European Parliament (EP) was visiting Vietnam early last year, meeting with state officials and members of the Vietnam's National Assembly, among other agencies, according to Thanh Nien Newspaper.
Speaking at the briefing on the last day of the four-day visit, Werner Langen, member of the EP and head of the delegation, said, "We ended this trip on an extremely positive note although we had only time to visit the two biggest cities, Hanoi and Ho Chi Minh City."
He said he was surprised by the frankness and openness during talks with Vietnamese officials about problems in the relationship between the EU and Vietnam as well as during Vietnam's development.
Langen said all the members of the delegation, with their positive feeling about Vietnam, would speak up on behalf of Vietnam and help the nation generate a particularly positive attitude within the EP in favor of the FTA between EU and Vietnam.