Permanant Deputy Prime Minister Nguyen Sinh Hung has said the economy will begin to stabilize early next year, thanks to the Government's efforts.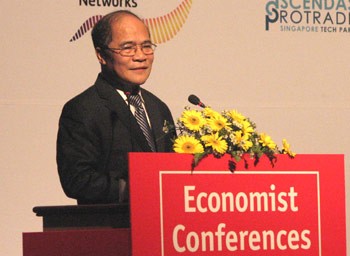 Deputy Prime Minister Nguyen Sinh Hung speaks at the business roundtable in Ha Noi on March 17
Speaking at a roundtable discussion between Government officials and international business leaders on March 17, Mr. Hung said, "We are aware clearly of global and local difficulties."
 
"Vietnam recovered in the first two months of 2009. All economic indicators in February were better than in January. We have good reason to hope. The economy will improve in the remaining months of this year and in 2010. Vietnam's industrialization target by the year 2020 will not change."
 
"We have tried our best to overcome the crisis and get back on track. This means looking for sufficient infrastructure, better investments, and a proper legal environment, as well as skilled personnel to prepare for 2020."
 
Internal strength would be a primary factor and international cooperation very important, he said. Internal strength would attract more resources from abroad, he explained.
 
Therefore, though Asian economies have been forecast to contract, Vietnam's economy expects to recover in 2010, he said.
 
Agreeing with Mr. Hung, Paul Leech, HSBC chairman in Vietnam, said the Government is undertaking the right reforms.
 
But if Vietnam wants to become an attractive investment destination, it needs to continue with administrative reforms, he added.
 
At the roundtable, investors also analyzed long-term challenges that Vietnam faces, like poor transport and port facilities, shortage of power and skilled human resources, sluggish customs procedures, corruption, bureaucracy, and others.
 
Tran Dinh Thien, acting head of the Vietnam Institute of Economics, said the recession might give the country an opportunity to address these challenges. For instance, through the government's stimulus measures, infrastructure can be improved.
 
He and many foreign investors hoped that the Government's stimulus measures work and the GDP growth rate is much higher than the 0.3 percent the Economist Intelligence Unit, a British advisory agency, has predicted.
Related article:
British research firm predicts 0.3% growth for Vietnam