In the eyes of foreign business people, Viet Nam's success in exporting agro-forestry and aquatic products is nothing short of miraculous. Exports of rice, cashew, pepper, coffee, processed wood, and tra and basa catfish have soared and are gradually dominating the world market.

The first story: catfish miracle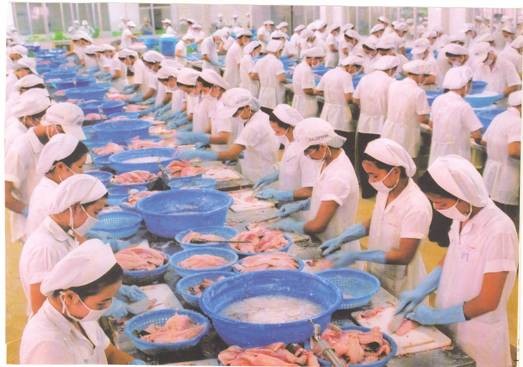 A processing line of tra and basa catfish in a factory

Addressing a global conference on the catfish trade and technology, Vietnamese Deputy Minister of Fisheries Luong Le Phuong said tra and basa, the native Mekong catfish that used to be food for the poor, have become popular in developed countries.

From 1997 to 2006, the area of catfish farming increased more than seven-fold (from 1,200 hectares to 9,000 hectares).
Even more impressive was the rise in export revenue from catfish, which has soared 40-fold to US$736.8 million in the last nine years to account for 40% of the fisheries industry's total export revenue.

Four fifths of the catfish go to the United States. Trade officials attribute the extraordinary performance to the industry's efforts to find new markets after the US imposed an anti-dumping tariff of 36-64% on Vietnamese catfish in 2003.

However, that hurdle motivated Vietnamese firms to look for new markets. Three years after the dumping tariffs came in, catfish production reached 825,000 tons and market share changed dramatically. Besides the US market, Vietnamese catfish now finds its way to the European Union, Russia, China, Hong Kong, Australia, the ASEAN member countries, in fact 80 countries in all.

The second story: Wood processing – a waking giant

The export turnover from wood products is climbing year by year. In 2004, it reached US$1.1 billion, up 88% from 2003. It increased 35% in 2005 and 24% in 2006, and the figure for the first five months of 2007 has already reached US$1 billion.

Last year, wooden products became the country's fifth biggest export earner after crude oil, garments, footwear and aquatic products.

Trade Deputy Minister Nguyen Thi Kim Ngan said the value of wooden product exports had increased from $1.1 billion in 2004 to $1.93 billion in 2006, helping Viet Nam become one of Southeast Asia's biggest processed wood exporters, surpassing Indonesia and Thailand. Viet Nam is also the world's third largest exporter of interior wooden products to the U.S.

According to the Truong Thanh Wood Product Company, the export growth was fuelled by the construction of furniture factories by foreign investors after the U.S imposed anti-dumping duties on Chinese wooden products.

Production of processed wood has grown fourfold in the last four years, and the products are now exported to 120 countries.

The third story: Pepper, cashew and rice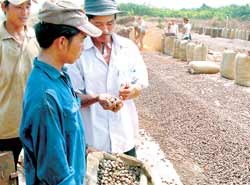 Farmers in Binh Phuoc Province collect cashew nuts for processing 
The chairman of the Viet Nam Pepper Association, Do Ha Nam, said that, during the 1980s, Vietnamese pepper had no presence in the world market.
Nowadays Vietnamese pepper holds a 60% share of the global market, up from 27.3% in 2001. Its major competitors are Indonesia and Brazil.

According to a conference on cashew nut quality held in the US state of Florida in April last year, Viet Nam exported 130,000 tons of cashew nuts, exceeding India (118,000 tons), to become the world's biggest cashew nut exporter.

The success resulted from the industry's effort to introduce new Japanese cashew processing technology.

Rice has also shown spectacular growth in the last decade, with Viet Nam now the world's second biggest rice exporter.

Last year, Viet Nam's rice exports topped $1 billion, while its coffee exports hit nearly $1 billion, making it the world's second biggest coffee exporter after Brazil.