Vietnamese airlines have drastically invested in modernizing their fleets in preparations for the ASEAN Open Skies or Single Aviation Market, which sets to be fully effective by the end of this year.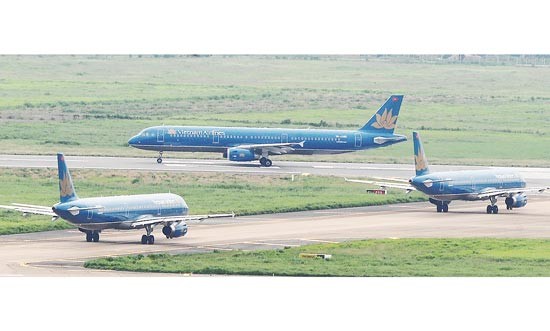 Vietnam Airlines aircrafts (Photo: SGGP)
Vietnam approved the impact which was signed in 2010 four years ago. This yearend will be the deadline for other ASEAN nations to approve the policy allowing airlines to fly freely throughout the region via the liberalization of air services under a single and unified air transport market.
The national flag carrier Vietnam Airlines has invested most in modernizing their fleet to practice the policy.
It will become the first airline in Asia Pacific region to use two most advanced aircraft lines in the world including Boeing 787-9 Dreamliner and Airbus A350-900 XWB, which will be put into service for flights to Europe.
Low-cost joint stock airline Jetstar Pacific has also made efforts for the regional integration.
The company director general Le Hong Ha said that they had changed into using A320/A321 aircrafts in all flights and brought new blood into its aircrew to improve service quality.
It has also worked with experienced shareholders such as Vietnam Airlines and Australia Qantas Airways to open new international and regional flights besides 25 under operation flights.
The country's first private own and low cost carrier VietJet Air has also modernized its squadron and launched new flights in local and foreign markets.
However their efforts seem to be insufficient to compete with other carriers in the region.
Many airlines have met four star and five star standards in the 10 ASEAN nations such as Singapore, Malaysia, Brunei and Thailand. Vietnamese carriers have just reached three star standards.
At a March conference, local carriers said that airway infrastructure had been developed behind the quick growth of flights, causing flight delay and cancel.
Ten years ago, the Airports Corporation of Vietnam implemented a Government's policy to upgrade and build airports, which has much eased overloading at main airports such as Tan Son Nhat and Noi Bai.
However, there are still many problems. For instance, traffic congestion continuously repeated along streets leading to airports last Tet holidays. Some heavy rains rendered flooding to block entrance gates to the airports.
In principles, the Skies policies will benefit Vietnamese airports because new airlines will open flights there. However it will be more harm than good if local infrastructures fail to meet demand, resulting in revenue and customer losses.
Another challenge is from ticket fare which will be a tense competition among local and regional low-costs carriers.
Mr. Le Hong Ha worried that low-cost carriers might meet with difficulties to book departure and arrival times at international airports because of the increase in airline number.
Vietnamese carriers need the Government's assistance to conveniently practice the Skies Policy and improve their competitiveness, he added.