Technological products contributed up to 93.4 percent in US$4.55 billion of Vietnam's total export in the first five months this year. However local businesses have attended very little in this performance.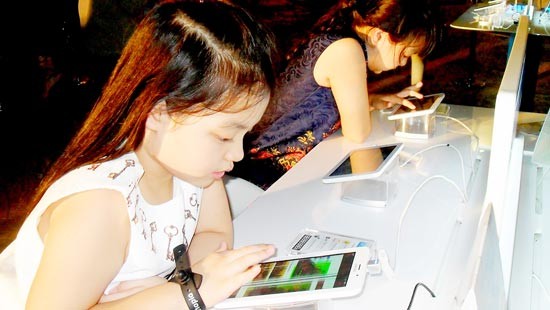 Tablets made by foreign firms in Vietnam have been exported to many countries in the world (Photo: SGGP)
The latest report by the General Department of Vietnam Customs shows that phone and component export turnover totaled nearly US$12 billion, up 20.2 percent equivalent to US$2 billion over the same period last year. It is the highest-growth commodity of Vietnam in the first five months.
Electronic turnover reached US$6.02 billion, up 59.6 percent or US$2.25 billion.
These two commodities brought the export value of US$4.25 billion, accounting for 93.4 percent of the five month export turnover.
Export markets of Vietnamese technological products have broadened. In the five months, phone export turnover to EU, U.S. and United Arab Emirates markets went up 13.6 percent, 64.4 percent and up 4.8 percent to US$4.01 billion, US$1.09 billion and US$1.71 billion respectively.
Experts said that foreign direct investment sector has been the main factor to the turnover growth of technological products.
The world giants such as Samsung, LG, Intel, Canon, Microsoft, Nidec, Fujitsu, Brother, Panasonic, Renesas... have expanded production in Vietnam for the last couple of years.
The experts believed that the turnover would continue increasing but the attention of local suppliers would be very tiny in the coming time.
According to Samsung Group, their plant in Bac Ninh province has hundreds of component suppliers. Of these, only few are Vietnamese who are able to attend in simple phases such as packing and printing.
The others come from South Korea, Vietnams' neighbors and joint ventures of Vietnamese and foreign firms.
Similarly, most suppliers of Intel Vietnam are foreign invested ones. Both Samsung and Intel said that they have faced difficulties in seeking local suppliers.

The condition is unlikely to improve in the time ahead when many technology projects will come into operation such as Samsung consumer electronics complex in the Saigon Hi-Tech Park. LG Group has also decided to move their electronics and household appliance complex from Thailand to Hai Phong city of Vietnam.
Most of Vietnamese suppliers are of small and medium scales and unable to meet these group's demand while Vietnam has yet to develop the technological industry. It will be difficult for them to attend in global supply chain without Government assistances, added the experts.