Several Vietnamese businesses are seeing investment potential in Myanmar, where domestic production barely meets 20 percent local demand and nearly 80 percent of consumer and industrial products are being imported.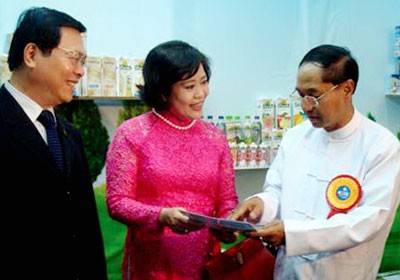 Vu Huy Hoang (L), Minister of Industry and Trade and Nguyen Thi Hong (C), deputy chairwoman of the HCMC People's Committee with U Myint Swe, Chief Minister of Yangon, at the Expo
Ho Chi Minh City Expo 2013 is being held from June 6-10 in Yangon City in Myanmar with 125 stalls presenting hundreds of high quality products from Vietnam like Dien Quang lamps, Cholimex foods and electric items from REE Electric Appliance Company.
Several companies sold out most products after two days, despite bad weather and heavy rain.
Tran Trong Qui, director of REE Electric Appliances Company, said that many customers have come and ordered large volumes of appliances for their construction projects.
Earlier REE had gone to Myanmar to study the local market and look for business opportunities. However this is the first time they have officially introduced their products there. After the Expo, the company will establish a subsidiary in that country.
Van Duc Muoi, director general of Vissan Company, says there are many attractive fields to invest in Myanmar. Vietnamese enterprises should not be afraid of initial difficulties and be patient before starting any business in this potentially new market.
Vu Cuong, Commercial Councilor of Vietnam in Myanmar, said that Burmese are just learning about Vietnamese goods via Dien Quang lamp and Tien Phong plastic sandals. Most other products have just been introduced for the first time in this market.
Meantime, several products from China, Thailand and Malaysia have become quite popular in Myanmar. As a result, Cuong said that Vietnamese businesses should increase their product quality for better competitiveness.
According to Phan Van Tam, director of Binh Dien Fertilizer Company, they have many times surveyed and sought investment opportunities in Myanmar, where Thai and Chinese fertilizer companies are already established before them.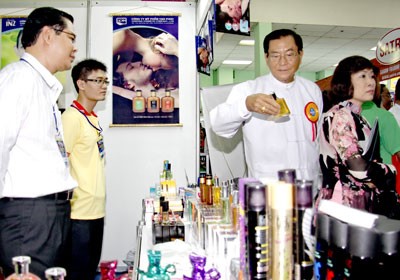 Burmese visitors view Vietnamese products at the HCMC Expo 2013 in Yangon in Myanmar
The company has coordinated with the Agriculture Ministry of Myanmar to deliver products on trial basis to some farms across the country. The products were well received, which helped reduce diseases and hiked output of rice and vegetables by 50 percent.
The company now wants to produce fertilizers that are suitable with the soil and climate of Myanmar. If everything goes well, they will consider a tie-up with a local company to open a factory.
Nguyen Thi Hong, deputy chairwoman of the HCMC People's Committee, said that HCMC will continue to open more fairs in Myanmar to help businesses advertise their products and seek investment opportunities.
However, companies should take the initiative to increase their product quality, diversify samples and quickly develop distribution networks so that Vietnamese goods will become popular in Myanmar.