Speaking at a seminar on technology development April 21, Dr Ho Sy Hung, deputy head of the Agency for Small and Medium-Sized Enterprise Development, said 80 percent of Vietnamese businesses do not have strategies to invest in science and technology. Many spend just 0.1 percent of annual revenue on technological innovation.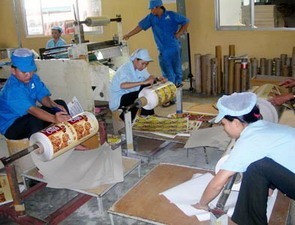 Many small and medium businesses in Vietnam use old technology (Photo: VNA)
Talking in Hanoi, Dr. Hung said that most Vietnamese businesses use technology that is three to four decades old.
Small and medium enterprises account for 97 percent of private businesses in Vietnam, provide three million jobs, contribute 40 percent of GDP and 29 percent of exports, with an annual growth rate of 18 percent.
However, these businesses are afraid to update technology because they lack capital. Many companies do not even know certain, useful technologies exist, or how to apply it in production, Hung said.
The commercialization of technological products, as well as applying demand, has been poor, he added.
The Ministry of Planning and Investment is creating a national fund for technology innovation to help businesses.
Vietnamese business will be able to borrow from this fund by 2010.