Vietnamese consumers have more and more appreciated and trusted in Vietnamese goods, according to reports at a conference hosted by the Ministry of Industry and Trade on July 3 to review five years of the 'Vietnamese Give Priority to Consume Vietnam made Goods' campaign.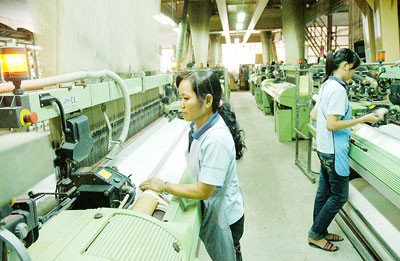 Vietnam's textile products depend on import materials (Photo: SGGP)
In several provinces and cities, 80 percent of population like local garment and footwear items and 58 percent like food and vegetables.
Seventy one percent of consumers believe in high-quality Vietnamese products. People in rural areas have got used to domestically made goods.
Domestic commodities account for 80-90 percent of total at some supermarket chains of domestic companies.
Localization rate of input products, materials and machines of businesses has increased an average of 25 percent since the campaign was launched.
The campaign implementation however has met with difficulties like strong competition from import items. This requires a methodical strategy and large capital to build and develop the distribution system, causing difficulties for small and medium enterprises of Vietnam.
Besides, a number of Vietnamese companies have failed to meet domestic consumption demand in quantity, quality, types and prices. Their products are unable to compete with imported goods, especially materials and equipment.
Production of several products depends on import materials, causing the prices of Vietnamese goods higher than that of other Asian countries.