"We only joined the World Trade Organization (WTO) four months ago, so it's too early to assess the impacts of Viet Nam's commitments to the WTO. After getting WTO membership, the country's economy began to change positively but not equally in many fields", said former Deputy Prime Minister Vu Khoan, who is now acting as special envoy to the Prime Minister.
Import increases not related to WTO membership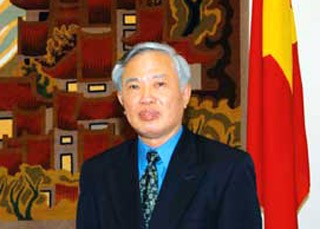 Mr. Vu Khoan
Viet Nam earned a total export turnover of US$14.5 billion during the first four months of the year, an increase of 22 percent over the same period last year.
The figures were released in a report on the country's socio-economic development during the past four months, which also saw total export turnover amounting to 31 percent of this year's annual target.
The country imported US$11.79 billion worth of commodities, a year-on-year increase of 34 percent.
As a result, the country's imports exceeded exports by US$1.3 billion, making up 28 percent of this year's trade deficit.
An economic expert noted that the import growth rate increased dramatically by 50 percent while exports increased 18 percent shortly after the country's accession to the WTO.
The high growth rate in import turnover has incurred a huge increase of 72 percent in the nation's trade deficit.
According to the Trade Ministry, however, the sharp increase in imports in the first quarter of this year was due to the purchase of high-priced capital equipment (US$2.9 billion, an annual increase of 52.7 percent, and accounting for 30 percent of the first quarter's import turnover), petroleum (over US$2 billion) and raw materials for the construction industry, not to membership in the WTO.
Also of note is the fact that most of those commodities were not on the list of items subject to large tax reductions created to fulfill the country's commitments to the WTO.

Light decrease in prices of some commodities
Prices of some imported goods decreased by 10 to 20 percent as per to the tax reduction schedule in the second quarter.
Some distributors say that tax reductions don't necessarily lead to price reductions. In order to lower prices, they said, companies need to be more pro-active in terms of payment methods, stocking practices and seeking better suppliers.
In carrying out its commitments to the WTO, the State's budget was also reduced due to the loss of import tax revenue.
Mr Vo Tri Thanh, Head of the Integration Board of the Central Institute for Economic Management, said WTO membership will help the country attract foreign investment, expand the market, enhance production and increase exports so that newly created inputs together with economic growth will compensate for the loss of import tax revenue.
Sharp increase in FDI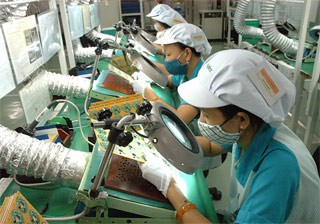 Japan's Nidec Corporation invests big money in Viet Nam
Foreign direct investment (FDI) is clearly on the rise, however, with capital flow reaching more than US$3.1 billion, an increase of 55 percent over the first four months of 2006.
A series of large projects worth over US$35 billion are queuing up for licensing.

Since early this month, Viet Nam has received many foreign business leaders seeking business opportunities. Among them were 18 leading American groups who are planning to invest US$1 billion in the country.
Mr Cao Viet Sinh, Deputy Minister of Planning and Investment, said that with such a high FDI figure, a target of US$12 billion FDI for 2007 is within reach.
Former Deputy PM Vu Khoan attributed the FDI increase to the country's WTO membership. He said after joining the WTO, Viet Nam was forced to improve its legal system and make it more transparent. That has changed the image of the country in the eyes of foreign investors.
"In their eyes now, Viet Nam is a young and dynamic country that knows how to listen and is willing to deal with its shortcomings in order to integrate into the global economy," he added.