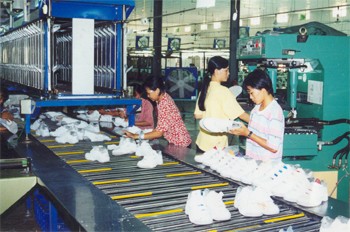 Vietnamese companies must be ready to brace the great challenges Viet Nam faces as it enters the WTO. (Photo:TK)
Local companies must be well-prepared as they play a very important role in meeting the great challenges Viet Nam faces as it enters the World Trade Organization (WTO), said Deputy Prime Minister Nguyen Sinh Hung, on the sideline of the ongoing National Assembly (NA) session.
According to the deputy PM, Viet Nam's entrance into the WTO will mean that the domestic market will open to welcome increasing foreign competition and Vietnamese companies will remain under constant pressure to show better performance.
Mr. Hung said local companies will have to make many improvements or they will run the risk of losing out in domestic markets. Some enterprises and commodities run the risk of failing altogether if they are unable to adapt and evolve with the soon to be changing market.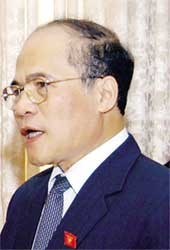 Deputy Prime Minister Nguyen Sinh Hung
"If enterprises do not reform promptly, particularly state-owned enterprises which currently generate over 40% of the GDP, they will be confronted with huge difficulties," warned the deputy PM.
It is necessary take greater measures in boosting the equitization of state-owned enterprises to improve their capital and management, pointed out the deputy Prime Minister. Besides, the Vietnamese government will continue providing private enterprises with indirect support such as training and trade promotions.
The deputy PM also expressed his concern about the competitiveness of the Vietnamese agricultural, forestry and seafood sectors which employ a majority of the country's work force and can receive only indirect support from the government. The government's limited indirect help can come in improving the infrastructure and technology, as well as finding potential markets, and the like. Direct investment by the government into enterprises is strictly prohibited.
According to Trade Minister Truong Dinh Tuyen, the WTO's Administrative Department will hold an inauguration for Viet Nam on November 7 to officially admit the country into the world's largest trade organization and the NA is expected to ratify a resolution on the country's accession on November 28.