Vietnam's exporters have struggled with a European law known as REACH taking effective in 2009, which has been described as the most important EU legislation for 20 years.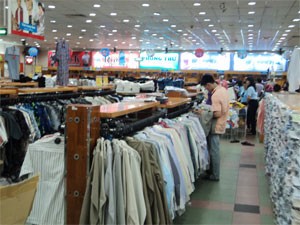 A man browses clothes at a HCMC-based supermarket. Local exporters grapple with the European legislation on chemical evaluation (Photo:Minh Tri)
REACH stands for Registration, Evaluation and Authorisation of Chemicals.
It puts the onus on business to show that the chemicals it uses are safe. It is also meant to encourage the replacement of hazardous chemicals with safer ones and to spur the chemicals sector into researching and developing more new products.
Local experts said the legislation required businesses in many sectors including textile, furniture, ink, paint, footwear, toy, electrical appliance and cosmetic to address chemicals they uses.
However, many local businesses said they grappled to meet the requirement. Footwear makers said it took 50 different materials to produce a pair of shoes, so they could not name the chemicals in the materials.
Local businesses had to hire more people to examine chemicals used in outsourced and exported products, prompting to the increasing input costs. Some others even lost contracts as they failed to meet the legislation.
Nguyen Minh Truc, expert in product examination of Germany-based testing quality and safety services provider TÜV Rheinland Vietnam, notices some Vietnamese producers have limited knowledge about the chemicals, which they buy from farmers and craft villages.
They buy the chemicals that have the required colors for their products without studying.
Nguyen Thi Lac Huyen, vice chairwoman of the Vietnam Paint And Printing Ink Association, said local firms hesitated to approach the REACH legislation as it has not been translated into Vietnamese.
European importers asked Vietnam's paint manufacturers to send the chemicals that they use to foreign laboratories for examination, leaving the products' cost moving up sharply, Huyen said.
"Many local companies had to improve their chemical management to meet up EU customers' requirements," she told Dau Tu Tai Chinh Newspaper.
Analysts say local firms consider REACH as a big obstacle of their way, but the legislation conforms to the international commercial laws.
Some foreign consultancies have entered Vietnam to provide local enterprises with guidelines on chemical management and train human resource for chemical examination.
Truong Dinh Hoe, general secretary of the Vietnam Association of Seafood Exporters and Producers, suggested local exporters should carefully study regulations from key foreign markets to avoid mistakes, which make their products being rejected.