Many garment businesses over the past few years have only focused on exporting clothes and forgot the potential domestic market of 86 million of people. Some companies have decided to crack the market, including Viet Tien.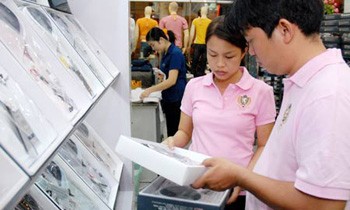 A Viet Tien shop in HCMC (Photo: SGGP)
In the last five to ten years, the country has seen many new fashion labels which sit in consumers' minds, like Ninomax, PT 2000, Blue Exchange, Viethy and Forci. However, most of them are just for the medium priced market for young fashion.
High and low ends of the market are currently flooded by Chinese goods and foreign high fashion businesses.
In spite of economic difficulties, the growth rate of domestic fashion consumption has been 25 percent up year on year.
This is a good sign for domestic businesses to develop in their own country. However, they have met a lot of difficulties.
First is materials, Vietnam has seriously lacked materials for domestic fashion commodities, as well as export items. The next problem is high expenditure for premises.
Experience from building the Viet Tien label
Being different from other export businesses, Viet Tien has focused on the domestic market besides exporting items like European style clothing, khaki trousers and shirts for men.
Viet Tien has aimed at men working in offices with high incomes. These product lines have had a steady stand in Vietnam.
The company is now the leading fashion house in Vietnam. Its products have been sold in 63 provinces and cities with over 1,000 shops and dealers.
Domestic growth of the company is 30 percent a year. In 2008, its domestic revenue reached VND450 billion (US$25 million). It is expected that this will rise to between VND600 to 700 billion this year.
Domestic consumption has played an important role in the company's business and accounts for 40 percent of its total revenue.
The company hopes that by the end of this year, it will present a new fashion line for men with medium wages.
Viet Tien has also worked with other businesses to develop more brands, Vee Sendy for the youth, and T-up, a top-end male fashion line.
In 2008, the company bought the trademarks for two high fashion labels from Italy and the US, San Sciaro and Mahattan, to produce and sell in Vietnam.