The Bank of Investment and Development of Viet Nam (BIDV) announced on the 13th it would participate in 13 investment projects in Laos worth a total US$3.5 billion during a visit to the neighboring country two days earlier.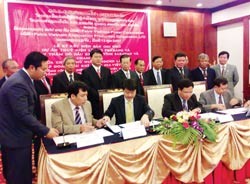 A signing ceromony to jointly build the Luang Prabang hydropower plant
Tran Bac Ha, CEO of BIDV told Somsavat Lengsavad, Lao deputy Prime Minister and chairman of a Lao-Viet cooperation, that his company would help further develop Lao comparative advantages through economic, cultural, social, and political cooperation.
This announcement was made during a visit to Vientiane by over 50 officials and entrepreneurs from 8 giant Vietnamese corporations including BIDV, PetroVietnam, Vinashine, Vinatex, Vietracimex,  Vina Properties, and Mirex, which seek investment opportunities in Laos.
Deputy PM Lengsavad said during a formal meeting that "this is a very significant event in the relationship between Laos and Vietnam…[which will help] boost bilateral relations in an effective way."
The same day, the two nation's senior officials signed a Memorandum of Understanding to build a 1,410 MW hydropower plant in Luang Prabang worth over $1.7 billion, and to explore oil in a joint project covering 13,700 square kilometers in Champasak and Saravan.
To cement the good relations, BIDV's CEO Ha and PetroVietnam chairman Dinh La Thang each donated around VND800 million ($50,000) to the Lao government to assist flood victims there.
The Vietnamese companies gave brief presentations on their interests in Laos to their counterparts.
Vietnam is the third largest investor in Laos only after China and Thailand. But Vietnam is currently the first in terms of FDI with 106 projects worth over $516 million.
The Vietnamese government has recently approved the establishment of an association of Vietnamese investors in the neighboring country, a decision which Vice PM Lengsavad hailed during the said visit as "timely and appropriate."