It has never been like 2014 when a lot of trade promotion activities including fairs and exhibitions were hosted abroad aiming to make way for Vietnamese goods to further penetrate the world market.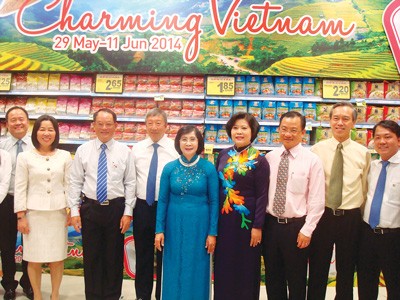 HCMC leaders and representatives of NTUC FairPrice Group in front of a stall displaying Vietnamese goods (Photo: SGGP)
Early this year a Vietnamese Goods Fair was hosted by NTUC FairPrice Group, Singapore's leading supermarket chain, at 107 supermarkets of the group in June, where showcased over 300 Vietnamese products at eye-catching positions.
The fair was 'early fruit' from the cooperation between the group and Vietnam's leading retailer Co.opMart supermarket chain since they opened large supermarket modals in HCMC including Co.opXtra and Co.opXtraPlus.
Ho Chi Minh City People's Committee Deputy Chairwoman Nguyen Thi Hong said that normally Vietnam had to spend on fair organization to help businesses seek for product distributors, however, the Vietnamese Goods Fair in Singapore was different as it was held by distributors hence it brought better efficiency.
A Vietnamese goods stall at Casino Saint-Didier Supermarket (Photo: SGGP)
HCMC will work with NTUC FairPrice to make the fair become a key trade promotion activity of the city, assisting local businesses to increase exports to Singapore.
Right after the fair, a Vietnamese commodity advertising program was hosted at Casino Saint-Didier supermarket in Paris in September by Vietnam's Ministry of Industry and Trade, Big-C supermarket chain and its parent company in France Casino Group. Hundreds of products including garment and textile, footwear items, processed farm produce and food were introduced at the event.
South Korean hypermarket Lotte Mart also organized a Vietnamese goods week at its 10 largest supermarkets in South Korea.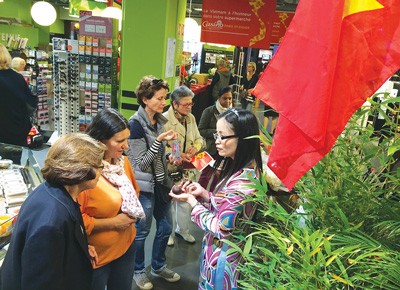 French consumers learn about Vietnamese fruits (Photo: SGGP)
For the last several years, Germany wholesaler Metro Cash & Carry Vietnam has exported Vietnamese commodities with a total value of US$35 million a year.
Metro representatives in Vietnam said that the export had not only contributed to boosting domestic production but also introduced Vietnamese goods to the world market through the wholesaler's supermarkets positioned in 29 nations.
After being present in Vietnam, Japanese retail group Aeon has exported US$60 million of Vietnamese goods to Japan and other countries. The main export items have been farm produce and seafood. The group has worked with 1,000 local suppliers and planed to cooperate with producers to create a separate label for domestic consumption and export also.
Last year export turnover reached US$150 billion and trade surplus was recorded at US$1.5 billion. It was the third back-to-back year Vietnam enjoyed trade surplus.
In 2005 the country had seven commodities with US$1 billion or higher export turnover. The number increased to 23 items after nine years. Of these the highest turnover was from phone and phone components, garment and textile.