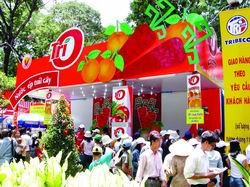 More local consumers join Vietnamese High Quality Goods Fairs. 
From June 23-28, 2006, the Central Highlands city of Buon Me Thuot, Dak Lak province, will, for the first time, host Vietnamese High Quality Goods Fair 2006. About 150 local enterprises will gather in 500 booths to display a wide range of high quality products.
There will be a display of Vietnamese high quality products including food and drink, textiles and garments, handicrafts and fine arts, pharmaceutical and cosmetics, paper and stationary, children's toys and interior furniture.
Besides, the Daklak Tourist Company will cooperate with other provincial tourism agencies to open a gastronomy fiesta, aiming at introducing the specialties of the ethnic minorities in Central Highlands in general and of the Daklak province in particular.
Moreover, a conference on Nominees for Vietnamese High Quality Goods title and discussions to exchange experiences and strategies to set up and develop a brand name will be organized.
Also, a contest among enterprises for choosing the product that satisfies Vietnamese consumers best will be launched. The Daklak provincial television will broadcast live a forum among participating enterprises, members of the fair's organizing board and local consumers.
The fair is jointly held by the Sai Gon Tiep Thi Newspaper, the Vietnamese High Quality Goods Club and the Daklak provincial People's Committee.