Declining crude oil price has helped Vietnamese plastic industry to promote export. Since the beginning of this year, plastic packing producers have been expanding export to European market thanks to double benefits from low cost price and import tariffs.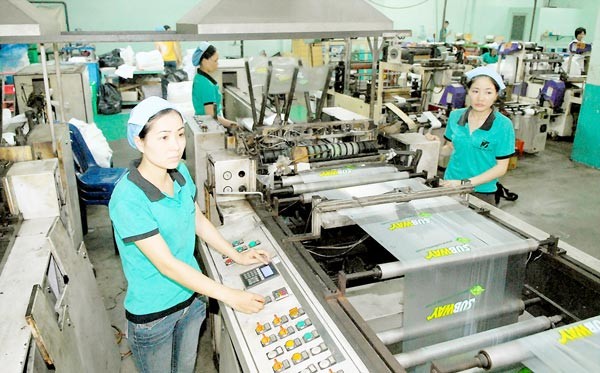 A plastic company in HCMC (Photo: SGGP)
Representatives of Nhat Tan Plastic Company said that export price of Vietnamese plastic packing products in European market has currently been at VND37,000 per kilogram, about 10-15 percent cheaper than similar ones made in European countries.

Therefore, Vietnamese plastic products' competitiveness is fairly high, they said.

Plastic companies explained that European countries only impose import tariffs on products that can hold 20 percent of market share in their territory. Meanwhile, plastic products in general and Vietnamese plastic packing products in particular merely account for nearly 5 percent of market share there.

In reality, there are around six producers across the country who export plastic packing to the European market with a monthly productivity of about 4,000-6,000 tons. Thus, it is unlikely for them to dominate 20 percent of market share in European market. Moreover, drastic drop of crude oil prices since late 2014 has created favorable conditions for plastic manufacturers to negotiate prices with their partners more flexibly. As a result, the number of orders also has increased faster than that in the same period last year.

As for the European market, importers are so pleased with the quality of Vietnamese plastic products that they continue to do business with their Vietnamese partners. For instance, import turnover of Vietnamese plastic products to Germany and Holland reached US$28.7 million in the first quarter of this year alone, up 10.4 percent over the same period last year. It is forecast that Vietnam's export growth rate in the European market will exceed 12 percent this year.

Many businesses said that they have been promoting production capacity of plastic products, especially of eco-friendly and safe plastic products. They will also produce plastic wraps, plastic boards, and plastic sheets in order to diversify their product variety and expand export market share to the European market.

According to the Ho Chi Minh City Plastic Association, export growth rate of plastic products has improved thanks to effort of plastic companies to catch up with current market situation and take advantage of tax incentive and low material prices to spread out their market share. The association also supports plastic companies with many solutions so as to create favorable conditions for them to foster manufacturing.

In particular, by June this year, the association finished a supply chain of raw materials and plastic products exporting. Its supply chain has gathered Singaporean material suppliers, bankers who provide loans with preferential interest rate, Ben Nghe Port which will give priority to plastic companies, and plastic manufacturers. Currently, plastic manufacturers have already approached financial source and are choosing material supplier.

In addition, the association has built a 45-hectare plastic industrial complex and filled up it with many plants. It is expected to help plastic companies to connect closely in production, reduce transport expenses, and ensure a steady material supply. The association has also proposed the Government to lower export tariffs from 2 percent to 1 percent. If the Government approves the proposal, it will help plastic companies to increase their competitiveness, promote expansion of production scale, and gradually raise export turnover to global markets.