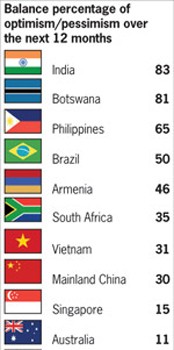 Ten economies head the list of most optimistic this year

Of private businesses around the world, those in Vietnam are the seventh most optimistic this year, down from third last year, a Grant Thornton survey has found.
India again topped the chart at 83 percent followed by Botswana at 81 percent.
Because of the effect of the global financial crisis and high domestic inflation, Vietnamese optimism has fallen to 31 percent this year from 87 percent last year.
But the Vietnamese economy still maintained a high growth rate of 6.23 percent while major economies like the US, Japan and EU are in recession, it said.
Grant Thornton polled senior executives from over 7,000 businesses in 36 economies.
The report also said falling consumer demand is the biggest threat to private firms.