With a big domestic market, the world's 13th largest population, an emerging economy in the successful process of socio-economy reforms, Viet Nam is a "target" of many global retailers, according to Pham Chi Lan, member of the Prime Ministerial Research Committee of Viet Nam. However, if Viet Nam has gone too far in favoring foreign investors at the expense of our own, Vietnamese retailers will encounter lots of difficulties.

Vietnamese Supermarket Boom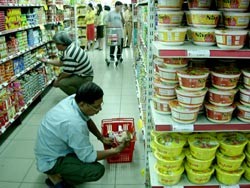 Saigon Co.op Mart (Photo: T.C.)
Within only ten years (1996-2006), a large number of supermarkets and trade centers have sprung up all over the country. Together with a system of 9,063 traditional markets, modern forms of goods distribution modeled upon the ones used in developed countries (supermarkets, department stores, convenient stores, trade centers) have radically changed the ways goods are distributed in Viet Nam.
If Viet Nam had only 12 supermarkets and trade centers in six provinces and cities in late 1996, after ten years the number has gone up to 200, located in 25 of the total 64 provinces and cities nationwide, plus 600 self-service stores, not to mention 20 supermarkets and 35 trade centers currently under construction.
Enterprises' business models are also more modern and proactive. They draw up strategies for long-term investment in production, creating stable and competitive goods supplies. Therefore, after ten years in formation and development, this modern distribution model has done a complete U turn. At the beginning, 100% of goods were imported, now only 30%, 85% of some goods are made in Viet Nam.
Each supermarket system has an average of 2,000-3,000 Vietnamese suppliers. Supermarkets have become an important channel for promoting Vietnamese brand names, which is one of enterprises' targets.
At present, Saigon Co.op (Ho Chi Minh City Union of Commercial Cooperatives) is busy with lots of projects, including building new supermarkets, seeking partners to distribute its goods, cooperating with Saigon Trading Group (SATRA) to set up a supermarket chain of famous trade name Co.opMart – SATRA in the hope to become the nation's first or second distribution conglomerate in 2010.
Beside Saigon Co.op, some general wholesale distribution networks invested by individuals are taking form. Typically, Phu Thai Co., Ltd. is working out its development strategy to become leading distribution cooperation in Viet Nam in 2007. Trung Nguyen Coffee Co. is establishing a wholesale and retail distribution system known as G7Mart to gradually become a big distribution corporation.
Also, Tan Son Nhat International Airport Travel Co. (SASCO), Ha Noi Trade Co. (HAPRO) and SATRA are attempting to set up big distribution firms.
Game for big and strong players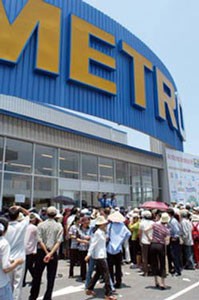 German Metro supermarket system in Viet Nam
Viet Nam is becoming a new mecca for big global distributors after it was selected as the third most attractive retail market in the world. BigC, Metro Cash&Carry, Lotteria, Parkson and Zen Plaza have recently become familiar to Vietnamese customers. These world leading retail systems have quickly taken up their foothold in the promising Vietnamese market.
Deputy Trade Minister Phan The Rue said trade talks are unrelentingly heating up foreign companies to enter the Vietnamese market.
According to Mr. Vo Van Quyen, Deputy Head of the Trade Ministry's Domestic Market Policies Department, the world largest distributors such as Wall Mark, Carrefour, Tesco, will be present in Viet Name in the coming time.
However, it is a concern that our country has not had retail firms strong enough to take on the foreign players attempting to enter our market.
What will occur after foreign retail conglomerates jump into Viet Nam?
Director General of Phu Thai Co., Ltd. Pham Dinh Doan gave out a vivid but bitter example of China: After Carrefour, the world's second retailer, had opened a large supermarket within a radius of 35 kilometers in China, three Chinese huge distributors went bankrupt. So, challenges for us are too obvious.
Upcoming challenges to traditional distribution systems will be very big and completely different to the ones we faced in the past, said Ms. Pham Chi Lan, due to a fierce competition among modern distribution systems developed by the world's large distributors and Vietnamese developing enterprises.
Challenges will also come from changes or fluctuation of the market, demand-supply situation, prices, business model for products and services.
It is inevitable that market shares of the traditional distribution systems will shrink and the volume of domestic trade will decrease.
Ms. Lan added, "However, if Vietnamese enterprises take timely action, they still can establish their positions in both modern and traditional distribution systems. The question is how to create firm association between producers and service enterprises, between human resource holders and distributors, between the state and enterprises, and among regions to grow in an overall strength in the globalization context."
Challenges for Vietnamese retailers
In fact, the developing process of Vietnamese retail corporations has encountered lots of difficulties. An enterprise complained that competitive pressure has been very intense even before Viet Nam's WTO entry. Lots of domestic distributors, however, still have to wait for the supermarket system planning. "It will be too late to wait for the planning!"

We are tying our hands due to the lack of flexible and proper policies. A representative of Phu Thai Co. said his foreign colleague did not believe it when he heard Viet Nam had licensed Metro to build all eight supermarkets at a time in the inner suburbs of big cities.
No country in the world offers so much favor to foreign investors. A big market like Indian has allowed only two Metro supermarkets to be opened. Many countries allow building big supermarkets only in the outer suburbs, while Saigon Co.op has for a long time wanted to open supermarkets in Ha Noi but it could not find suitable space. We may have gone too far in favoring foreign investors at the expense of our own.
Vietnamese enterprises are in need of effective support in principle of equality and it is in our national interest to have local retail corporations to take shape and develop strongly, before we open the door for foreign retailers.
Viet Nam ranks the world's third in attracting retail corporations

Viet Nam becomes the third most attractive global retail market, according to a study of A.T. Kearney, a US-based global management consulting firm.

The study shows that Viet Nam attracts retailers thanks to its population of 84 million, half of whom are under 30, who spend 16% more on consumer goods and retail sales grew by 20% in 2004-2005.

The world retail corporations in Viet Nam

Metro Cash&Carry (Germany): six supermarkets in Ho Chi Minh (HCM), Ha Noi, Hai Phong, Da Nang, and Can Tho cities. Engaging in wholesale and retail trade in 10,000-15,000 commodities sold 10%-15% lower than those of other supermarkets. Over 90,000 members are issued with Metro card

Big C (Thailand): three supermarkets in HCMC and Dong Nai. Four ones are in constructional preparation in Ha Noi, Can Thoi, HCM and Da Nang cities.

Parkson (Malaysia): HCMC

Levis Strauss: Ha Noi Capital City

Bourbon (France): granted construction license in Hai Phong City.

Dairy Farm (Singapore): applying for 100% foreign owned company.

Lotte (Republic of Korea): operating in Viet Nam under joint-venture.