The ASEAN Ports Association (APA) held its 34th annual conference in HCMC yesterday. The meeting focused on sustainable development, human resources training, managerial experience, and the efficient operations of ports.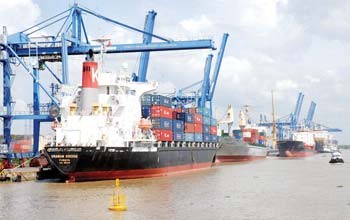 Cat Lai port in the Ho Chi Minh City's district 2. (Photo: SGGP)
On the sidelines of the conference, Sai Gon Giai Phong asked Ho Kim Lan, secretary general of the Vietnam Seaports Association (VPA), about the status of the Vietnamese port network with respect to other regional countries and its future development.
Reporter: Sir, how do Vietnamese ports compare to other ports of other ASEAN nations?
Mr Lan: I have some figures to illustrate the reality of our seaport system. Every year, Singapore's seaports receive an average of 27 million TEUs (twenty-foot equivalent units), Malaysia receives 10 million TEUs, Indonesia and Philippines receive 5 to 6 million TEUs each, Vietnam receives 4.5 million TEUs, Myanmar receives 2 million TEUs, Cambodia receives 600,000 TEUs and Brunei receives 200,000 TEUs.
The operation of Vietnamese port system is only better than three other countries.
However, I think that the port system of Vietnam will just stand behind Singapore and Malaysia over the next several decades because Vietnam's port system has a lot of advantages in terms of geographical position, geology, hydrography, combined with the strong development of the Vietnamese economy.
Q: Would you please tell me how Vietnam's port system can develop over the several decades?
A: Nature gave Vietnam a long coastline, with many places that are deep enough to develop deep water ports and international transshipment ports.
However, Vietnam lacks the material facilities and qualified people to develop the port system further. The infrastructure at ports in Ba Ria - Vung Tau, HCMC and Dong Nai are substandard.
25B Street, which connects Cat Lai port with the Ha Noi Highway to provinces in Vietnam's southeast, central and northern regions, is always overloaded and in poor condition.
The road networks at the ports of Cai Mep – Thi Vai (Ba Ria – Vung Tau) and Hiep Phuoc have not been completed.
Besides, 80 percent of Vietnamese sea transportation is carried out by foreign enterprises.
At present, most Vietnamese enterprises import on a CIF (cost, insurance and freight) basis and export on a FOB (free on board) basis, leaving foreign partners to hire vessels and buy cargo insurance.
Services after goods are discharged, such as gathering cargoes and completing customs procedures, are conducted by Vietnamese forwarders, most of them are hired by foreign enterprises.
In order to have a solid position in the region, we have to overcome these problems. The earlier we overcome them, the more quickly we can catch up with or even pass other countries in the region.
Q: Has VPA had any recommendations for the development of Vietnam's sea transportation system?
A: We have given our recommendations to the authorized organization. Besides, ports also try their best to develop. However, there are a lot of difficulties. For example, Saigon Port has completed 90 percent of site clearance to build Hiep Phuoc Port. However, there is no road to go to Hiep Phuoc, so the Saigon Port can not begin construction of the new port.
Investing and developing seaports is one of main priorities in Ho Chi Minh City's economy development, HCMC People's Committee Deputy Chairman Nguyen Trung Tin said.

HCMC's leaders welcome enterprises wishing to invest in building seaports.

At present, the number of goods through HCMC port system has reached 50 million tons a year, double the target set for 2010. It is now expected to increase to 100 million tons in 2010.