According to the Vietnam Seaports Association, the present economic crisis has spelt doom for Vietnamese seaports since the beginning of 2012, specifically for container cargo vessels with output only reaching 1.76 million TEU in the first quarter, much lower than expected.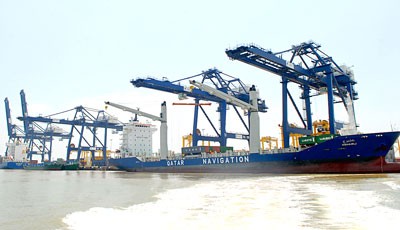 A number of seaports in Vietnam are not operating at their full capacity (Photo: SGGP)
Despite a very strategic location in the southern key economic zone, the Seaport Complex No.5, which includes Cai Mep-Thi Vai Port in Ba Ria-Vung Tau Province and others in Ho Chi Minh City and Dong Nai Province, is currently facing many difficulties.
The Cai Mep-Thi Vai Port has failed to meet its expected target growth rate. In the first quarter of 2012, the container cargo output via the port did not increase as expected, not even meeting 40 percent of its target capacity.
 
Large cargo vessels have not docked at Cai Mep-Thi Vai Port as expected by the Government and the Ministry of Transport. Initially they expected that the larger vessels would help create new direct maritime routes to Europe and America, cut short journey and thus reduce freight rates.
At present, a large volume of commodities exported to the European and American markets transit via Singapore, Hong Kong and China.
Several Vietnamese joint venture partners of Cai Mep-Thi Vai Port are being forced to consider withdrawal of capital and resigning from the Ports' management board or selling to foreign partners. The present low turnover cannot even cover investment costs and pay for the bank interest.
Turnover in other ports of HCMC has also fallen over the last few years.
Besides the current economic crisis, there is a surplus of seaports in Vietnam, without adequate business, infrastructure or capital resources to render them effectively operational.
Even the larger seaports like Cai Mep-Thi Vai and Hiep Phuoc in HCMC do not have enough financial backing to complete infrastructure like roads to link to industrial and export processing zones. This greatly affects the competitive ability of Vietnamese seaports.