The steel sector in Vietnam is currently facing many challenges with the property market still frozen and continued competition with Chinese smuggled counterparts flooding the market.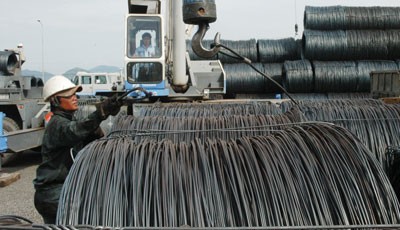 Steel lying unsold in a manufacturer in the southern province of Ba Ria-Vung Tau (Photo: SGGP)
According to the Ministry of Construction, the steel sector produced 270,000 tons in May, an increase of 13,000 tons compared to the previous month but a decrease of 80,000 tons against the same period last year.

Steel inventory is around 350,000 tons, an increase of 50,000 tons against the same period last year.
Meantime, the Customs Department said that 800,000 tons of heap boron steel from China had been imported into the country, a decrease of 11.6 percent compared to last year.

Local manufacturers said a large quantity of Chinese imported steel is being sold as rolled construction steel to enjoy zero percent import duty while authentic construction steel is subject to a 10 percent import tariff.

Imported steel is being sold cheaper than locally manufactured steel putting Vietnamese steel manufacturers under big pressure. Businesses have launched continuous promotional programs and lowered price three times in May, but this has not eased the situation.

In addition, the sector is facing other challenges as some countries in Europe and America set up technical barriers and tightened procedures to imports, to protect local steel makers.

Other countries issued cumbersome procedures to restrict imports. The Vietnam Steel Association (VSA) said the sector's current weakness is lack of capital and too much dependency on production material plus backward technologies resulting in high production spending and weak competition.

Around 30 percent of enterprises apply out-of-date technology and only 30 percent use advanced technology. The sector should increase capacity to make steel billet in a bid to reduce dependency on imports.
Pham Chi Cuong, chairman of VSA, said steel makers should cut spending and concentrate more on selling and marketing.

Vina Steel Corporation said around 500,000 tons of steel lies unsold since beginning of the year, a decrease of 13 percent against the same period last year.
An estimated 466,000 tons of construction steel was sold this year, a decrease of 14.7 percent compared to 2012, due to frozen property market and competition from Chinese made steel.