Viet Nam's total value of garment and textile exports reached over US$2.1 billion in the first five months of 2006, a 31.1% year-on-year increase, among which, the growth of EU markets contributed greatly to the positive result. The growth was rather sustainable with the increase of valuable traditional products
Clothing exports to the EU posted solid growth of 75% with sales of many major and high value commodities of Viet Nam such as jacket, trousers and shrink clothes.
There are many reasons for this growth. The EU member economies, especially Germany, have recently recovered, resulting in an increase in purchasing power in these markets.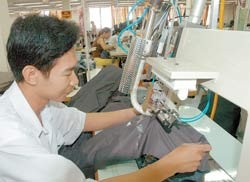 Worker of the Nha Be Garment Company is sewing texudos for export.
Besides, a slightly increase in value of the Euro and British pound over the greenback helped create a lot of advantages for Viet Nam to export to the EU.
Moreover, Chinese textile-garment products exported to the EU were recently limited with quotas, not to mention the affect of cold and snow-stormy weather in the EU these days, have resulted in the market's rising demand for Vietnamese textile products.
Vietnamese exporters learned not to depend too much on the US market when they decided to shift their exports to the EU, which has been Viet Nam's familiar market for a long time and where Vietnamese products have more advantages.
Vietnamese textile-garment giants including Viet Tien, Nha Be, Garment 10, Dap Cau, Tay Do recently signed new contracts with the EU partners to export their products to this big market.
According to the Vietnamese Ministry of Trade, the export turnover of trousers is the highest among textile-garment commodities, reaching nearly US$50 million, an increase of 137% year-on-year, and accounting for roughly 20% of the total export revenues of the industry.
Major markets for this product are Germany (an increase of 150%), Britain (194%), Belgium (333%), etc.
Ranked second was jacket, whose export turnover was US$ 33.7 million in the first quarter of 2006, an increase of 94%.
The growth in jacket export has created many favorable conditions for the development of domestic textile enterprises where many locally-produced textile materials were readily available to produce jackets. In the previous years, although these enterprises had embarked technology, their business was hit hard due to the market's slipping demand.
Major export items of Viet Nam's textile-garment industry included shirts, pants, coats, sport clothes, skirts, work protection clothing, children's clothes, and tuxedos.
Experts predicted that the growth rate of textile-garment export products to the EU market will continue to increase remarkably thanks to the stability of the currently signed contracts.
Furthermore, Vietnamese exporters became more professional in marketing while they are always in search for new potential markets, aiming at not relying too heavily on a specific one. This helped to balance the export capacity over many international markets including the EU, the US, Japan and Southern Asian markets.