Cooperation between Vietnam and Russia is greatly benefitting the two countries with regard to economics, trade and investment, Vietnamese Trade Counsellor to Russia Pham Quang Niem said.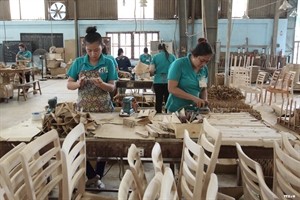 Wood production for export to Russia (Photo: VNA)
Bilateral trade reached 4 billion USD in 2013 and 1.76 billion USD during the first half of this year.
Russia currently ranks 18 th amongst the countries and territories investing in Vietnam, with a total of 97 investment projects worth close to 2 billion USD.
Meanwhile, Vietnam has invested 2.4 billion USD in 17 projects in Russia.
A meeting between Vietnamese and Russian businesses, chaired by Minister of Industry and Trade Vu Huy Hoang, on September 16 is expected to help the firms to learn about the respective markets and enhance investors' confidence, boosting cooperation between Vietnam and Russia, Niem added.
A free trade agreement between Vietnam and the Customs Union of Russia, Belarus and Kazakhstan is expected to be signed next January on the occasion of the 65 th anniversary of Vietnamese-Russian diplomatic ties.