General director of Vietnam's biggest fund manager VinaCapital announces more funds to develop resort projects in the central coastal provinces.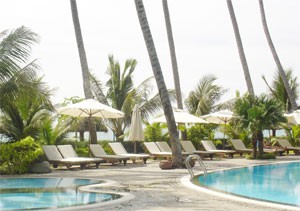 A resort in the coastal city of Da Nang. Vietnam's central coastal provinces are potential tourist destinations in the future (Photo: Minh Tri)
"I notice that Vietnam's central provinces are very beautiful and within close proximity of many countries of north Asia, than are places like Indonesia's Bali or Thailand's Phuket," says Don Lam, general director of VinaCapital in an interview with Dau Tu Tai Chinh Newspaper.
"They are potential tourist destinations and also offer many opportunities for investors."
Lam says that Vietnam's investment environment has significantly improved, fostering both direct and indirect investments to flow in.
Yet he notices that the tourism sector in the central provinces still faces a huge disadvantage due to visa hassles.
"For example, a Hong Kong tourist planning to travel to Thailand for a couple days can just buy a ticket and fly to the country," Lam says.
"Vietnam, meanwhile, asks for a visa, which take travelers a lot of time. Without a visa, it takes a tourist only one and a half hour for a flight from Hong Kong to the central coastal city of Da Nang."
VinaCapital favors making investments in Vietnam companies, who need funds for business expansion or have investment projects for resort development, Lam says.
"Raising funds is not an easy task during the current difficult times. We did promote Vietnam's potential growth outlook in the long term to investors worldwide," he says.
Lam also adds that VinaCapital has attracted a significant investment amount of US$1.8 billion from an initial amount of $10 million.
"I travel 30 trips annually to promote Vietnam to direct foreign investors. Last year, VinaCapital participated in 37 international conferences on investment promotion in foreign countries," the general director says.
This year's International Travel Expo – Ho Chi Minh City (ITE-HCMC) will receive an increased number of international participants, according to a press conference held in the city last week.
 
According to organizers, the Vietnam National Administration of Tourism and the HCMC Department of Culture, Sports and Tourism, 347 tour operators, airlines, hotels, tourism service providers, and buyers from 47 countries and territories will participate in the event.
 
The event is the largest ever tourism conference to take place in Vietnam.
Vietnam aims to welcome seven to eight million foreign tourists and 32-35 million local visitors annually by 2020, by which time the country expects tourism growth to net in US$10-11 billion per year.