The National Financial Supervisory Commission forecast that Vietnam's economic growth rate would be 6.5 percent and inflation 2 percent this year in an October macroeconomic report announced on Friday.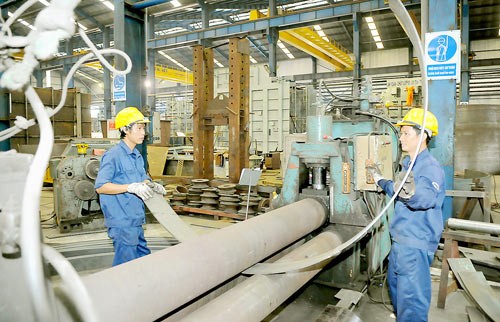 A mechanic enterprise in HCMC. Vietnam's economic growth is forecast at 6.5 percent this year (Photo: SGGP)
According to the commission, the economy has been in recovery momentum although the growth rate has been slow. 
Export import turnover increased a year on year rate of 8.5 percent for the last ten months. 
Trade deficit accounts for 3.1 percent of total export import turnover. It has been reducing month by month, and lower than the National Assembly's target of 5 percent. 
Private investment has improved accounting for 38 percent of total social investment capital in the third quarter, which reached 31.9 percent gross domestic product--the highest rate since 2012. 
The commission forecast no major changes and steady macroeconomic growth in the rest of this year. Growth rate will hit 6.5 percent, interest rate and exchange rate will remain stable. However growth rate will be low partly due to the gloomy world economy and domestic reform policies that have yet to create new motive forces for growth. Meantime, fiscal and monetary polices have been tightened.