Annual growth rate of Vietnam's electronic industry averages 10 percent with foreign companies holding 80 percent local market share and over 90 percent export turnover.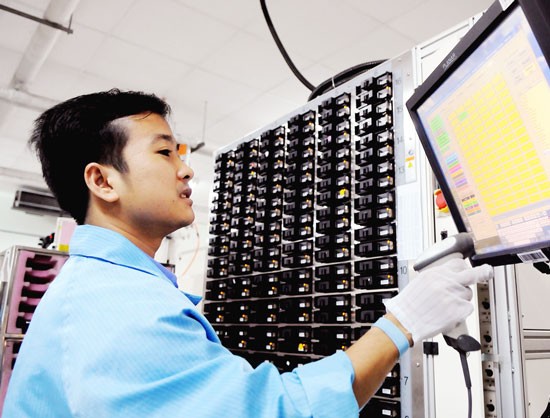 A worker at U.S. Greystone Data Systems Company in Vietnam (Photo: SGGP)
This field has attracted over US$10 billion foreign direct investment (FDI) capital so far with the attendance of world giants like Samsung, Foxconn, LG, Panasonic and Intel.
According to the General Statistics Office of Vietnam, the electronic industry has led in exports with total value exceeding US$30 billion since 2013.
The export value of phone and components alone rocketed to US$20.18 billion in the first eight months this year, up 32.6 percent over the same period last year, contributing US$5 billion in the total US$9 billion export growth of the entire industry.
Computer, electronic products and components brought US$9.99 billion, up 53.5 percent over the same period last year. It is estimated that the industry's export turnover will reach US$40 billion by 2017.
The most attractive part of Vietnam's electronic industry has been cell phone.
Samsung has built a US$2.5 billion plant in Bac Ninh and another US$2 billion plant in Thai Nguyen in the northern region. They have come into operation and drawn many component makers to the two provinces, most of them are FDI companies.
In addition, the group has invested in its third plant in Vietnam at Saigon Hi-Tech Park in Ho Chi Minh City with a total capital of US$1 billion.
Last year, British-based Laird plc inaugurated its first plant in the country in Bac Ninh province.
Mr. Duangdej Yuaikwarmdee, director general of Reed Tradex Vietnam, said that Vietnam's electronic industry has quickly developed for recent years making the country a hi-tech product manufacturer in the world with many foreign giants namely Panasonic, Samsung, Canon, Intel, Fujitsu, LG and Nokia.
The Vietnam Electronics Association said that the country has become one of the world largest production centers of cell phone, printers and photocopiers. This creates a big chance for local businesses to develop support industry and become a link in the global supply chain.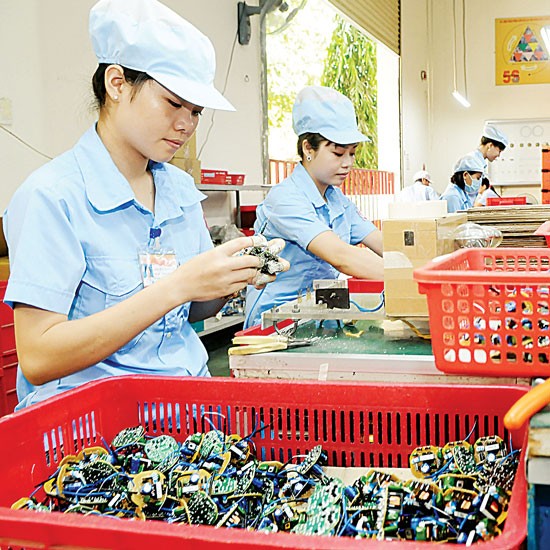 Electronic component assembly at a domestic firm (Photo: SGGP)
However, they have faced many challenges. Despite high export growth rate, the industry has seen low added value because most materials have been imported. Last year, export turnover hit US$32 billion but imports reached US$28 billion.
They have also met with fierce competition from FDI companies to become component suppliers of large groups.
Associate Professor Nguyen Thanh Thu from HCMC Economics University said that although FDI companies accounts for one third of the total electronic companies in Vietnam, they hold up to 80 local market share and 90 percent export turnover.
Samsung's export turnover alone is around US$20 billion yearly. With its current investment pace, the number is expected to exceed US$30 billion in the future.

Meantime, Vietnamese firms have held a very small part with low added value because they have imported most materials for assembly.
Samsung has recently reported that they have 90 component suppliers in Vietnam, of these only 10 percent is Vietnamese firms, who have mainly provided low added value services like packing and printing.