Hundreds of questions from local exporters asking about exporting into the Euro Union market were sent to the online exchange, which was held by the Ministry of Industry and Trade and the Multilateral Trade Assistance Project (MUTRAP III).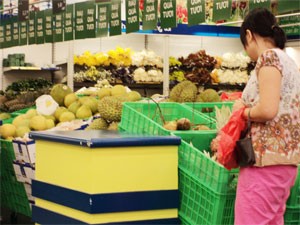 Shoppers picks fruits at a HCMC-based supermarket. Vietnam's fruits exported into main markets including England, Germany, Netherlands, Italia and France remains in low quantity (Photo:Minh Tri)
Vietnam's fruits exported into main markets including England, Germany, Netherlands, Italia and France remains in low quantity, with an average turnover of US$55 million per year, said Tran Ngoc Quan, deputy head of the EU Market Department.
Local fruit exporters with export taxes are struggling to compete with from the EU's newly-joined members from the Eastern Europe, which are beefing up their export, Quan noticed.
"Besides complying with common import regulations of the EU, Vietnam's exporters should pay attention in regulations on processes of registering imported agricultural products," said Tran Trung Thuc, embassy counselor in the EU-Belgium trade office.
Thuc also said the EU has recently required the EurepGAP certificate for imported agricultural products.
EurepGAP is a common standard for farm management practice created in the late 1990s by several European supermarket chains and their major suppliers. GAP is an acronym for Good Agricultural Practices.
The aim was to bring conformity to different retailers' supplier standards, which had been creating problems for farmers. It is now the world's most widely implemented farm certification scheme. Most European customers for agricultural products now demand evidence of EurepGAP certification as a prerequisite for doing business.
"EU is the world's biggest consumer of imported agricultural products, including vegetables, grains and coffee. Among the EU countries, England is the largest agricultural products consumer, following are France and Germany. The consumption is increasing day by day as local people believe green foods are the best for health," said Thuc.
"Netherlands is the entry for imported agricultural products to enter the EU market. Thus local exporters should approach retailers and distributors in the country," Thuc suggested.
Potential furniture market
The embassy counselor also said the EU was Vietnam's second biggest importer of furniture, buying 40 percent of the total imported volume.
"Statistics show the export turnover of furniture sector reached $504 million last year. They [EU importers] bought garden chair and table set and living-room and kitchen furniture the most. We are studying on beefing up sales of office and bedroom furniture, which have low turnover," Thuc said.
Deputy head Quan of the EU Market Department said at the online exchange that Vietnam's turnover of handicraft amounted to an annual average of $200 million and showed signs of declining due to low quality.
Vietnam's footwear exporters have a gilt-edged opportunity to achieve a booming time this year thanks to the European Commission's removal of the anti-dumping taxes and Free-Trade-Agreement (FTA).
The European Commission last month signaled the end of long-standing anti-dumping taxes levied against Chinese and Vietnamese shoes, according to AFP.
The commission gives notice that the anti-dumping measure ... will shortly expire," the EU's executive arm said in the European Union's daily official journal.
"No request for a review was lodged," for the punitive taxes to be re-imposed after they expire on March 31, the official journal noted.
The penalty taxes were first applied more than three years ago in retaliation against Asian footwear being sold in Europe at below production cost.
The European Commission stressed, in the official organ, that it considers it "appropriate to monitor for one year the evolution of the imports of footwear with uppers of leather" originating from China and Vietnam "with a view to facilitate swift, appropriate action should the situation so require."