Ninety percent of Vietnam's farm produce is exported in its raw state and at a very low price to foreign buyers who then process and label it with their own brand name to sell at higher rates, said Nguyen Duy Luong, deputy chairman of the Vietnam Farmer Association.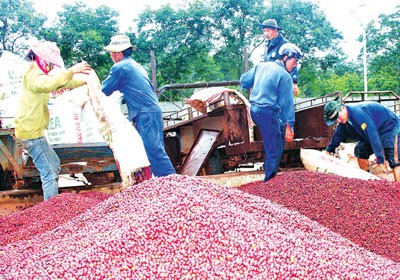 Most of Vietnam's coffee is exported raw at a low price (Photo: SGGP)
Vu Huy Hoang, Minister of Industry and Trade, also admitted at a National Assembly meeting that although Vietnam has a variety of high-quality farm produce, most of it is exported in raw form. 
According to Vu Dinh Bac, chairman of the Thanh Ha Litchi Export Association in Hai Duong Province, Vietnamese farmers have been exporting fresh litchi to China for last several years. Chinese importers then process the litchi fruit, pack and label with their brand name and sell at a much higher price than in which they imported.
Because most farm produce in Vietnam has not developed brand names despite a large export output, the margin of profit remains far too low, said Mr. Bac.
Nguyen Viet Vinh, secretary general of the Vietnam Coffee and Cocoa Association, said that Vietnam has not yet paid attention to processing of farm produce for export purposes.
For instance, a kilogram of coffee bean sells for US$2 but after processing importers earn $7 for just one cup of coffee.
According to Mr. Luong, the State should formulate policies and use their capital resources to help localities and businesses develop specialized areas for growing of certain produce, so as to establish a brand name. Scientists should assist farmers with advanced processing technology methods to add value to their produce for export.
Economic expert Nguyen Minh Phong said that Vietnam has hundreds of farm produce in need of building brand names. Initially, the country should focus on produce that has the highest export output like rice, coffee, tea and fruits.