Somber information about labor export in 2009 has worried businesses, workers and state offices.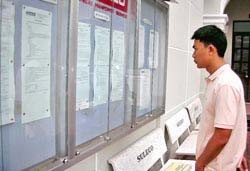 A man reading information at a job center in HCM City. (Photo: SGGP)
In Japan, Toyota has dismissed 23 percent of its workers in the last six months due to low demand for its cars. At present, the number of Vietnamese workers has been reduced from 8,800 to 6,800, the Vietnam Association of Manpower Supply (VAMAS) said recently.
The Korean Central Bank also said that the number of bankrupt companies has reached 321, the highest number in the last three years.
In Macau, the number of unemployed has increased to 11,000, most worked in casinos and come from Southeast Asian countries.
The Malaysian government is finding ways to reduce foreign labor, from now to 2010, by 400,000 people each year.
VAMAS announced that Czech Republic has stopped providing visas for Vietnamese laborers. Joint venture businesses manufacturing cars in the country have also reduced workers.
Investment for Middle Eastern countries has been reduced leading to the reduction of labor demand.
A lot of Vietnam laborers will have to come back home early as many businesses are reducing production or declaring bankruptcy.
Government limits loss for workers
 
The Department for Overseas Workers Management has sent a dispatch to labor export businesses to solve interests for workers coming back to Vietnam before their time limit is over.
Accordingly, after laborers come back to Vietnam, businesses have to refund them their brokerage and service fees. The Department has also asked these companies support laborers more to reduce losses.
People suffering large losses should submit specific reports to the Department in order to be helped in accordance with the law.
Some countries have drawn up regulations for foreign workers who have lost their jobs.
In Taiwan, foreign workers losing their jobs have the right to register to find a new job. While waiting for new jobs, their former employers have to supply them with free accommodation. After 60 days, if workers cannot find new jobs, they have to return to their countries without refunds and plane tickets.
If workers quickly return to their countries; their former employers have to provide plane tickets and one month's salary for every year worked.
In Japan, employers have to inform workers one month before dismissing them so that they can find another job. The labor trade union will find new jobs for them and pay accommodation fees.
If the union can not find them new jobs, their former employers will give them air tickets, one month salary.
In Korea, if workers cannot find new jobs in two months they must return to their countries with one-month salary for every year worked. The air ticket will be extracted from the 'insurance to return home' or workers pay the cost themselves.
In Malaysia, brokerage companies have to find new jobs for workers and pay 500 RM (VND2,250,000) a month for each worker. Owners have to pay air tickets and two-week salary for every year worked.
Trying to find new labor markets
In 2008, Vietnam had 85,000 workers overseas who sent $1.7 billion back to the country. It is a considerable income that has contributed to eliminating hunger and reducing poverty.
 "Trying to find out new labor markets and enhancing skills for workers are essential in this situation. Besides, workers coming back to the country should be helped," Le Thanh Tam, Director of the Ministry of Labor, Invalids and Social Affair said.
Labor Service and Export Company has opened training courses on baking cakes, cooking and welding to help people find work in Australia and New Zealand.
The company's director, Duong Hoang Hai, said "Vietnam has two businesses permitted to export labor to Australia and we are trying to take 50 workers to this country this year because the careers outlined seem not to be affected by economic recession. Skilled workers would have an opportunity to earn AUD40,000 ($26,000) a year."
Suleco, HCM City Overseas Manpower Services Company, has taken 34 laborers to Portugal to work, such as welders who can earn $1,500 per month after accommodation fees.
Suleco said that they would take about 700 laborers to Portugal and Japan this year, equal to 2008.
Incomex Sai Gon Group also said that they are recruiting 500 workers in garment and building industries for Russia, Ukraine and Belarus with an income of $1,000 a month. The initial cost for documentation, brokerage and air tickets is $2,000 per worker.
"This is an endeavor of the group to find a new way for labor exports in this difficult situation," the deputy head of service and trade department at Incomex, Nguyen Thi Bich Hang, said.