Vietnam's sea-related industries, like sleeping giants, have failed to cash in on many large advantages, which are offered by the country's profuse water resources, experts say.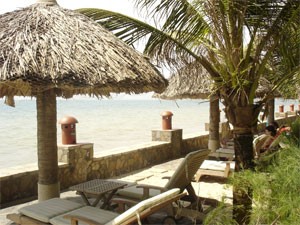 View of a luxury resort in the coastal province of Binh Thuan. Vietnam has more than 100 spots appropriate for building international-standard ports or high-class resorts (Photo:Dang Hanh)
Nguyen Van Duc, deputy minister of natural resources and environment, says Vietnam has abundant water resources and the country's waters are considered as the bridge connecting the trade of Pacific and Indian Ocean.
More than 3,200 kilometers of coastline, over 3,000 islands and the total water area that is threefold the mainland area are among the key factors boosting the Southeast Asian country's economy, experts expect.
Vietnam's water resources around tons of crude oil and seafood, while there are more than 100 spots appropriate for building ports along the coast, of which some of them can be international-standard ports or high-class resorts.
However, the country's sea-related industries are being shackled by many difficulties, said Dr. Nguyen Van Cu, head of the Viet Nam Administration of Seas and Islands.
"The environment of Vietnam's waters is being polluted, with alarmingly high density of oil in the seawater in some areas. The area of coral reefs and mangrove forests has been narrowed dramatically," Cu said.
The pollution sources that come from the mainland and vessels have not been curbed, weakening the competitiveness of Vietnam's sea products on foreign markets, he added.
Vietnam has lost at least 1.5 to 3 percent of its gross domestic products (GDP) to environmental pollution that has been increasing rapidly for many years, says the Ministry of Natural Resources and Environment.

Surface water in most urban areas are polluted with organic substances and Coliform bacteria up to three times higher than levels deemed safe have been found. The sea water in many coastal provinces are contaminated with oil and cyanide, the ministry said last week at a press conference held to announce the National Environment Report 2010.
Vietnam has not had any big brand in providing sea-related products and services despite the country's potential water resources, according to the Department for Sea and Islands Exploitation and Management (DSIEM).
Statistics show revenue from sea-related industries of Vietnam amounts to an average of US$10 billion compared to Korea's $33 billion and Japan's $486 billion.
"Compared to Singapore, the area of Vietnam's mainland is 50 times larger, population is 16 times higher and coastline is 40 times longer. However, all of our ports cannot compared to any one of Singapore," said Dr. Vu Si Tuan, head of DSIEM.
"The number of freight per person of Vietnam reaches one fifth of Thailand, one seventh of Malaysia and one 140th of Singapore."
Deputy Minister Nguyen Van Duc said "one of the key goals of Vietnam's sea strategies in 2020 is to boost revenue of sea-related industries to 53-55 percent of the gross domestic product (GDP), according to the Central Resolution No.4 issued by the Ninth National Party Congress."