At a conference at the Ministry of Information and Communications (MoIC) this week, Viettel Telecoms asked the Ministry to revoke regulations controlling businesses with dominant market shares.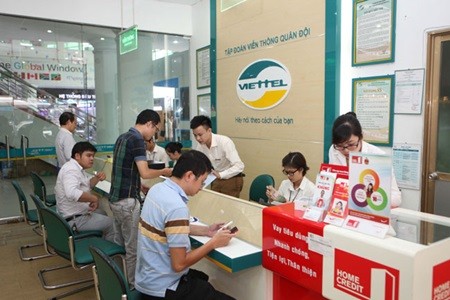 Customers at a Viettel store. Viettel Telecom has asked the Ministry of Information and Communications to revoke regulations controlling businesses with dominant market shares. — VNS Photo Truong Vi
According to Vietnam Economic Times, the Deputy General Director of Viettel Telecoms, Hoang Son, made the request.
MoIC had issued Circular No15 to amend a number of provisions of Circular No18/2012/TT-MIC on telecommunications business and groups of telecommunications business with large market shares, effective from June 15, 2015.
Businesses accounting for over 30 per cent of the market share are required to register with the MoIC and guarantee that their prices are not less than their costs. Businesses without significant market share, meanwhile, are allowed to introduce prices less than cost, as long as they are not too far below the average price in the market. These businesses need only send a report to the Ministry on their pricing.
Viettel is now the nation's dominant telecommunications firm, including phone services, SMS and internet access, holding a market share of 52 per cent.
The regulations had been a disadvantage for Viettel, especially with the issuance of new price packages from its two main competitors, Vinaphone and MobiFone.
The MoIC, however, declined Viettel's request. Deputy Minister of Information and Communications Pham Hong Hai said that the largest operator must always be managed closely.
Deputy Minister Le Nam Thang, however, said that the most important issue for the telecommunications sector was to maintain competitive pressures. If an enterprise was too strong, it might overwhelm its competition. Dominant enterprises must follow the Law on Telecommunications and comply with the Law on Competition, noted officials.