Five seaports under the Vietnam National Shipping Lines (Vinalines) have been equitized while seven others are rushing to launch their initial public offerings (IPO) by the fourth quarter this year and early next year.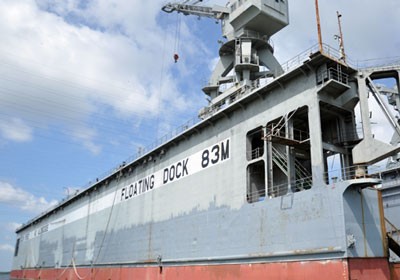 The purchase and repair of the second hand Floating Dock 83M causing heavy loss at Vinalines (Photo: SGGP)
That is from reports at a meeting chaired by Minister of Transport Dinh La Thang on Vinalines restructuring and equitization on August 13.
The five ports changing into joint stock modal include Khuyen Luong, Quy Nhon, Hai Phong, Nha Trang and Da Nang. Vinalines Nha Trang One Member Co Ltd has also been equitized.
Quang Ninh, one of the two largest seaports in the north, is going to transfer into the joint stock modal.
Besides, five other seaports including Saigon, Cam Ranh, Nam Can, Nghe Tinh and Can Tho have completed paperwork requirements and are waiting for verification.
They are expected to conduct stock market launch by the end of this year. Saigon Port which is being removed from Ho Chi Minh City's center area will carry out an initial public offerings (IPO) before the second quarter next year.
Vinalines plans to announce its value on October 24 and equitization method in December, and launch an IPO by the first quarter next year.
About debt restructuring, Vinalines director general Le Anh Son said that it is facing difficulties because there is no mechanism for the Debt and Asset Trading Corporation (DATC) to purchase Vinalines' debts at banks.
The State Bank doest not permit the creditors to convert their loans into equity in Vinalines or its seaports and investment projects.
The holding rate of state capital at the seaports maintains high at 75 percent, which is among factors hindering Vinalines' debt restructuring. Some of the banks only agree to make their loans into equity if the Government reduces the capital holding rate to 51 percent or lower.
To boost equitization and restructuring at Vinalines, Mr. Son proposed authorized agencies to soon assign DATC to purchase the company's debts from banks that are in demand to sell the debts.
He also sent the proposal to the Government to permit Vinalines to keep the funds from IPOs of seaports and the parent company, and DATC to convert debts into equity in Vinalines when it launches IPOs.