Viet Nam's agricultural exports to the United States (US) are expected to surge with stable demand from a key market, an official of the government said yesterday.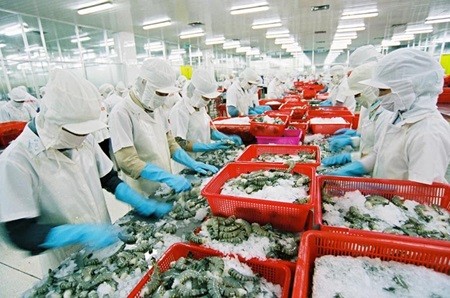 The US market is said to be the most promising and stable market for Viet Nam's exports in recent years, with commodities as wood and wood-based products, aquatic products. (Photo: fistenet.gov.vn)
Le Van Banh, head of the Department of Processing and Trading Agricultural, Forestry, Aquatic Products and Salt under the Ministry of Agriculture and Rural Development, told the seminar that this year was forecast to be a promising year for the export of agro-forestry-aquaculture products due to increasing demands in the global market, and because Vietnamese businesses would have the opportunity to enjoy tax incentives from free trade agreements signed between the country and its partners.
The seminar co-organised by MARD and the Ministry of Industry and Trade (MoIT) held in Ha Noi yesterday discussed ways to further promote the export of farm produce to foreign markets. Associations, trade counsellors and businesses attended the seminar.
The US market is said to be the most promising and stable market for Viet Nam's exports in recent years, with commodities as wood and wood-based products, aquatic products, and other farm produce such as cashews, pepper and coffee doing well, he added.
He said it was necessary to enhance trade promotion in foreign markets, and further improve the quality of products to meet the strict food safety regulations.
Sharing the view, Vietnamese trade counsellor in Australia Nguyen Thi Hoang Thuy noted that Australia has also been a potential market for Viet Nam's exports, but it has imposed stringent safeguards on food safety.
Regarding market expansion of Vietnamese fruit, deputy head of the Plant Protection Department Hoang Trung said Viet Nam has completed negotiations to sell fruits to various markets such as the US, Japan and Taiwan (China).
Trade counsellors in foreign countries should give more assistance to domestic companies to hasten exports to the markets, he suggested.
According to Vietnamese trade counsellor in Egypt Pham The Cuong, this country has been seen as an auspicious export market for Viet Nam's agro-aquaculture products as it always faces water shortages, which is vital to agricultural production. However, almost no trade promotion activity by Viet Nam is currently being carried out in the country.
MARD's Deputy Minister Tran Thanh Nam asked trade counsellors to keep domestic enterprises updated on information related to market forecasts and regulations on trade barriers, to support them in their exports.
Nam also hoped for closer co-operation between the two ministries to continue expanding markets for Viet Nam's agro-forestry-aquaculture products, effectively exploiting traditional markets such as the ASEAN and the EU, and focussing on potential ones in the Middle East and Africa.
Businesses urged to be active
Nguyen Bao, Vietnamese trade counsellor in Cambodia told the internal session of the trade counsellors' conference 2016 held here on Wednesday that they have been burdened by export growth targets.
Pham Quang Niem, Vietnamese trade counsellor in Russia – a market which suffered numerous fluctuations over the past two years – said trade promotions were needed to give Vietnamese goods access to the country.
Russian people have not been inclined towards e-commerce and prefer seeing products being sold over the counter, he said.
He added that 160 Vietnamese businesses introduced their goods at exhibitions in Russia in 2015 and were receiving the attention of the people.
'We were surprised when local businesses sold a large amount of goods in Russia. Several firms registered themselves to establish a representative office in Russia to promote their sale," he noted.
He said domestic firms should be prepared to take advantage of the opportunities in the market as the free trade agreement (FTA) between Viet Nam and the Eurasian Economic Union (EAEU) would take effect in June.
The MOIT set an export target of US$181.5 billion for the year of 2016, posting a 10 per cent year-on-year increase.
This was the reason trade counsellors in foreign countries would play a vital role in enhancing exports by providing information, promoting goods and supporting businesses in seeking contracts.
However, they also asked enterprises to invest in advertising and participate in exhibitions. They should be more active in advertising their own partners and seeking information.