Vietnamese enterprises, especially small- and medium-sized companies, should accelerate measures to develop their trademarks -- with a view to increasing their competitiveness in the process of regional and international integration, said Deputy Minister of Industry and Trade Đỗ Thắng Hải.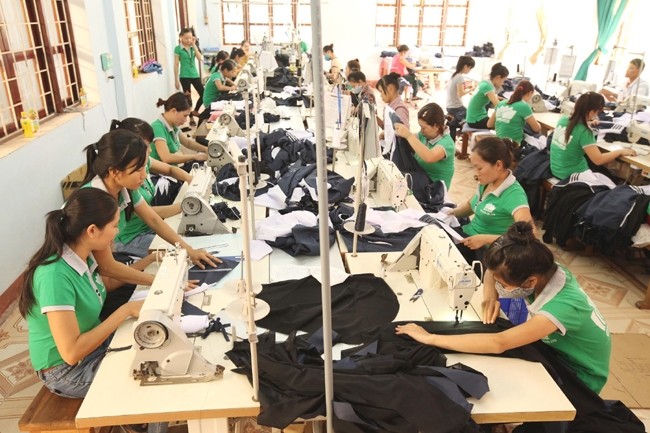 "SMEs currently account for over 90 per cent of the country's businesses. But most of them are lacking strategies to develop their brands," Hải said. (Photo: VNA/VNS)
Hải spoke on March 11 in Hà Nội at the 9th Forum on Việt Nam National Branding, part of  "The National Việt Nam Branding Programme" organised by the Trade Promotion Department under the Ministry of Industry & Trade. He said that branding development is always a 'hot' issue for many foreign investors, especially since the M&A transactions are flourishing in the domestic market. Branding development is also an opportunity to evaluate the integration of Vietnamese businesses into the world market.
"SMEs currently account for over 90 per cent of the country's businesses. But most of them are lacking strategies to develop their brands," Hải said. According to Hải, building brands for enterprises and promoting national trademarks is urgent and important. And it will be even more important when the country opens up the market, in line with free trade agreements it has signed.
Samir Dixit, Asia-Pacific Director of Brand Finance, said at the event that according to a Brand Finance evaluation report, Vietnamese companies' trademark valuation in 2015 totaled US$140 billion, down 19 per cent from the previous year.
Compared with seven ASEAN countries listed in the National Brand Ranking drafted by Brand Finance, Việt Nam ranked sixth -- after Singapore, Thailand, Indonesia, Malaysia and the Philippines; and ahead of only Cambodia.
This ranking partially reveals the weakness in Việt Nam's national branding. Plus, Việt Nam still shows shortcomings in product quality, product lifecycle, customer satisfaction, imports, exports, and the social responsibility of enterprises, Dixit said.
Sixty-three companies have been honoured with the National Value Awards: more than double the thirty companies honoured in 2008. Dixit says this is absolutely fantastic. But he doesn't know which 63 companies won, since no information is available about them and there is no website offering this needed information.
"How do you show people that these are the 63 most important companies in the national brand, without promoting them properly?" Dixit said.
Thierry Noyelle, Senior Adviser to the SECO/Vietrade Technical Cooperation Programme, notes that the websites of the 63 enterprises whose brands qualified for "Việt Nam Value" have English-language website versions, but with very poor content.
Noyelle said that only 10 of the 63 companies display the "Việt Nam Value" logo on their websites. The other 53 award-winning companies do not mention Việt Nam Value.
He said "Việt Nam Value" is a collective mark promoting the winning 63 Vietnamese companies and emphasizing three values: Quality-Innovation, Creativity and Leadership. But in practice, the three values seem weakly incorporated into the businesses of VV companies, and VV as a brand is poorly promoted.
Noyelle said that the National Branding Programme focuses mainly on promoting VV companies, while SMEs are gradually being left behind. To enhance competitiveness in local and foreign markets, Vietnamese SMEs also need branding and a "collective mark". And they should move up value chains and boost exports with higher value products and higher priced goods and services.
Việt Nam has been signing new-generation trade agreements continuously, especially since joining the Trans Pacific Partnership. So brand building is an urgent issue for enterprises to promote their businesses and the country's image. If businesses do not take  measures to improve national branding, they will not have a chance to take advantage of new international economic opportunities coming soon.