Modern industry in Viet Nam mainly revolved around assembling parts and components, said Dr. Pham Xuan Duong, permanent deputy head of the Party Central Committee's Commission for Economic Affairs.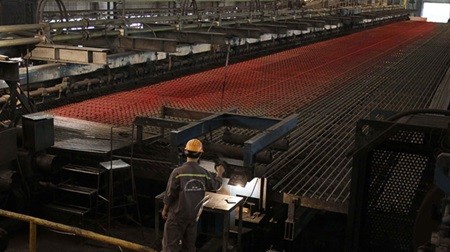 A worker at a laminated steel production line in Thai Nguyen Steel Mill Factory. The Government is advised to select research institutions and producers to develop strategic materials, including steel, an official says. (Photo: VNA/VNS)
Duong told delegates at a workshop on Wednesday in Ha Noi that this failed to match expectations for national industrialisation.
The event was held to collect inputs for the development of a national strategy for industry development.
Duong said since "doi moi" was initiated in 1986, Vietnamese production had risen 24 times.
However, he said, lack of a complete development plan after the country's official integration into the World Trade Organisation (WTO) in 2007 and conflicts between the different development strategies for different sectors had hindered industrial growth.
Duong said in industry, production of materials boosted the growth of other industries, especially manufacturing, information technology, electronics, culture, services, tourism, agriculture-forestry-animal husbandry and export-oriented farm produce processing.
He added that developing industry would help lower trade deficit, help stabilise the macro-economy, reduce exports of unprocessed natural resources, including raw minerals, and increase the added value of products.
Further, it would also help attract foreign investment, create employment and encourage the taking of initiatives to protect the environment.
At the workshop, participants discussed what materials should be selected for focused development in Viet Nam and analysed good practices round the world that could be introduced into the country.
They also analysed the needs and demand for materials for industrial production in both local and foreign businesses.
Scientists at the workshop made several recommendations for a policy to develop the materials industry from now to 2025 with a vision to 2035, underscoring the important roles of State-owed businesses, scientific-technological research institutions and banks.
Dr. Doan Dinh Phuong, from the Viet Nam Academy of Science and Technology, called for increased investment in research and development and training.
He said the Government should select a number of research institutions and producers to develop strategic materials that could serve both military and civil purposes, including titanium and steel compounds, special alloys, and photonic and electronic materials.
The Government should also give preferential treatment to producers who made advanced materials, he added.
Professor Dinh Van Phong from Ha Noi University of Technology said if there was sufficient investment, Viet Nam was capable of producing highly skilled experts.
Phong suggested long-term training programmes should cover everything in the process of making goods - from research to final production.
He also suggested a link between universities and research institutes and producers.
"This link will bring researchers down to earth, learning about real issues," he said.
Recommendations made at the workshop, Viet Nam materials industry - dynamics, needs and supply capacity, will be collected as inputs for a report the committee will send to the Political Bureau, Party Central Committee Secretariat and related agencies to help in producing a strategy to develop industry.