Although the Ministry of Planning and Investment already expects to attract US$11 billion in foreign direct investment (FDI) this year, further administrative reforms by the government could allow that figure to reach US$15 billion fairly easily, an officer of the Ministry's Foreign Investment Agency said.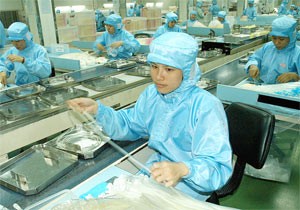 Making medial equipments for re-export to Japan at Nikkiso Vietnam Co. in Tan Thuan Export Processing Zone
Vo Hong Phuc, Minister of Planning and Investment, told the opening session of the National Assembly's Standing Committee in Ha Noi on Monday that "the country has a chance to set a new record in FDI".

"By considering the FDI flow situation since early this year, and taking into consideration investment proposals currently on the table, we are confident the inflow might even go as high as US$20 billion".

"Investors from the U.S., Japan, Taiwan, South Korea and Europe have proposed a long list of projects, and if assessment and licensing procedures continue smoothly, we are confidant that we can attain this goal," Minister Phuc told NA deputies.

Phan Huu Thang, Head of the Foreign Investment Agency (FIA), made similar remarks regarding the outlook for FDI.

Many large-scale projects were proposed in the first two months of the year and most have been assessed as being viable for licensing, not to mention numerous other proposals made at the end last year.

Mr. Thang said, "At present, 14 FDI projects worth US$20 billion are in the processing stage. At least 30 percent of them will be licensed and carried out this year."

In Ha Noi, for example, Malaysia's Gamuda has proposed developing a complex of hotels, office buildings, residential blocks and conference halls with a total investment of some US$1 billion, while the British Pacific Land Group is seeking a license to build a biological technology zone in Nam Thang Long worth US$1 billion.

Foxconn from Taiwan is even more ambitious, seeking to invest US$5 billion to develop an information technology "city" to manufacture electronic products in the northern provinces of Bac Ninh and Bac Giang.

In the central highlands province of Dak Nong, the U.S.'s Alcoa Group is one of several candidates presenting proposals to the government for developing the country's bauxite industry and building an aluminum refinery having a capacity of 1.3 million tons per year.

Alcoa is really keen on the investment as the group has pledged to build a railway from the Central Highlands to the sea for transportation of raw materials.

They are also considering increasing their joint-venture capital in the Vietnam National Coal and Mining Industries Group to US$3 billion from an initial value of US$1.5 billion.

Thang said all such projects would likely be licensed, especially since they are all located in areas the government wishes to develop.

In order to exceed this year's FDI target, he noted that representatives from the FIA will visit 17 major provinces and cities considered to be attractive to foreign investment in order to clear the way for foreign investors to develop their projects rapidly and profitably in Viet Nam.
Big FDI projects in process
Foxconn's electronic production facilities in Bac Ninh and Bac Giang provinces – US$5 billion. (Taiwan)
Japan's thermo-electric power plant in the central province of Khanh Hoa – US$3.5-4 billion.
Posco's steel factory in the central province of Ha Tinh – US$3.2-3.5 billion. (South Korea)
Alcoa's bauxite exploitation in Dak Nong province – US$3 billion. (U.S.)
AES Transpower's Mong Duong BOT power plant in the northern province of Quang Ninh – US$1.5 billion. (U.S.)
China's thermo-electric power project in southern Viet Nam – US$1.4 billion.
Singapore's petrochemical factory in the central province of Khanh Hoa – US$1.2 billion.
Starbay Holding's 510-hectare up-market hotel complex on Phu Quoc Island – US$600-800 million – Hong Kong (China
Taiwan's glass production project in the central province of Quang Ngai or Quang Ninh Province – US$500-800 million.
Taiwan's laptop production project in the northern province of Vinh Phuc – US$500 million.
South Korea's ship building project in Khanh Hoa Province – US$500 million.