The lack of close ties between logistics companies and importers and exporters has led to high tariffs, resulting in the latter's poor competitiveness, Deputy Minister of Industry and Trade Tran Tuan Anh has said.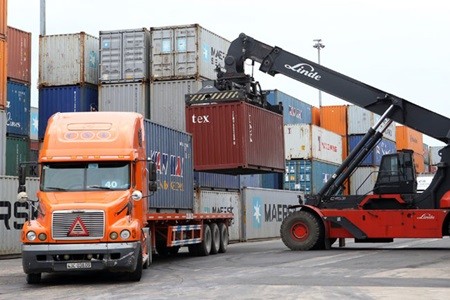 Cargo containers are loaded from ships at Tien Sa Port in the central city of Da Nang. The lack of close ties between logistics companies and importers and exporters has led to high tariffs, resulting in the latter's poor competitiveness. (Photo: VNA/VNS)
Speaking at the Vietnam Logistics Forum organised in HCM City yesterday by the Vietnam Economic Times, the Vietnam Logistics Association and his ministry, he said logistical costs amounted to around 20-25 per cent of Viet Nam's GDP in recent years, and cutting them would improve the competitiveness of the country's goods in an increasingly competitive environment.
Logistics costs in developed countries range between 10 and 13 per cent.
Tuan stressed the need to develop an efficient and reasonable system to connect all forms of transport by mobilising all resources, especially domestic.
"The legal framework and regulations for the logistics sector remain difficult and the lack of close co-ordination between relevant organisations has had a negative impact on the sector's performance."
Vietnamese logistics services providers hold a modest market share.
While several of them had started offering third-party (3PL) or outsourced logistics, they lacked professionalism, a wide network, technology, and resources to invest in an efficient information system, Anh said.
Vietnamese traders had not recognised the importance of logistics and supply chain management, and so had yet to use outsourced logistics, he said.
Globally, logistics systems tended to employ information technology and e-commerce for order handling, implementing, delivering, and payment, he said.
Tran Du Lich, member of the National Assembly's Economic Committee, wants the Government to acknowledge the importance of logistics as a service and prioritise long-term planning for the industry. It should be linked with the country's maritime economic strategy, he said.
Private investment in infrastructure for developing logistics services should be stimulated through private-public partnerships (PPPs), he said.
Laws and regulations should facilitate the operation of the industry while ensuring fair and transparent competition and should be harmonised with international standards, he said.
Do Xuan Quang, chairman of the Vietnam Logistics Association, called for policy incentives in terms of taxation, land use and bank credit and others for investment in logistics infrastructure like airports and seaports, logistics centres, inland customs depots, and IT infrastructure.
He also called for developing e-commerce, distribution, and urban retail networks and for investment in IT together with creating more 3PLS and 4PLS (an integrator that accumulates resources, capabilities and technologies to run complete supply chain solutions) in distribution and retail.
The Bank for Investment and Development of Viet Nam signed a memorandum of understanding with the VLA to provide banking services to logistics businesses.
Viet Nam has around 1,200 domestic logistics businesses, which only handle 25 per cent of the total business, leaving the rest of the market share to foreign-owned companies.
Last year Viet Nam ranked 48th out of 160 countries in the World Bank's Logistics Performance Index, up five places from 2012.