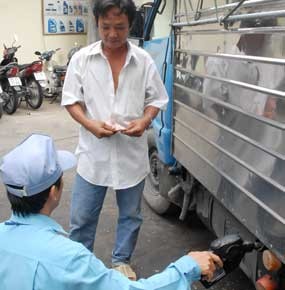 A truck driver has diesel oil filled in Ho Chi Minh City Tuesday after diesel price decreased (Photo: SGGP)
The Ministry of Finance decided Tuesday to cut retail diesel prices by 2.8 percent to VND15,500 (almost 94 U.S. cents) per liter of grade 0.05S due to lower prices in the world market, but petrol prices remain unchanged.
The retail price of 0.25S diesel oil also decreased by VND450, down to VND15,450 per liter. Under the decision, the new prices took effect at 11 am Tuesday.
At present, the world crude oil price has gone down to the six-month low, about US$95 per barrel. With the world price, Vietnamese importers, who are also distributors, see substantial profit.