Việt Nam's retail sector offers great potential for investors in the context of various free trade agreements and the Trans-Pacific Partnership the country has signed, which are expected to boost investment flows, a conference heard in HCM City on Monday.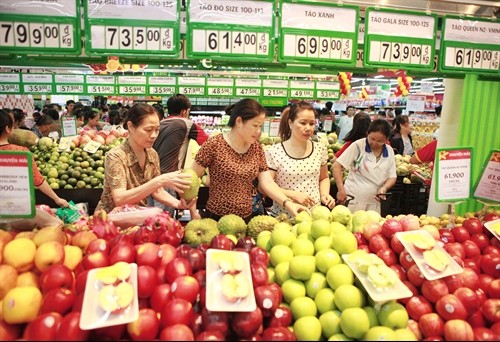 Consumers select fruits at Vincom Lê Thánh Tông in Hải Phòng City. Việt Nam's retail sector offers great potential for investors in the context of various free trade agreements and the Trans-Pacific Partnership the country has signed. (Photo: VNA/VNS)
Đặng Trần Hải Đăng, deputy director of VietinBank Securities Company's research centre, told participants that retail turnover last year was worth US$102 billion, and it is expected to rise to $179 billion by 2020.
Wet markets dominate the retail scene with a 75 per cent share, while supermarkets, department stores and other modern retail outlets account for 25 per cent.
But Đăng said this is expected to increase to 45 per cent by 2020.
"The 25 percent rate is low compared to 33 per cent in the Philippines, 60 per cent in Malaysia, 34 per cent in Thailand and 90 per cent in Singapore."
Meanwhile, the Vietnamese Government is opening the doors with policies to loosen foreign ownership regulations pertaining to both listed and unlisted firms and the conclusion of the TPP and other free trade deals.
Foreign retailers have been buying local companies, finding it the quickest way to enter the market. In 2014 mergers and acquisitions were worth $4.74 billion, and the figure increased to $5.2 billion last year.
M&A deals in the retail sector accounted for $899 million and $254 million during the two years.
They included the purchase of 49 per cent in electronics chain Nguyễn Kim by Thai group Power Buy for $100 million.
Japan's Aeon Co bought 49 per cent of Citimart for $9.8 million and 30 per cent of Fivimart for $4 million.
Huỳnh Phước Cường, director of retail sector at market research firm GfK Vietnam, said the technology products retail market achieved 22 per cent growth last year.
Mobile phones saw the highest growth of over 29 per cent, followed by electrical cooling items, which achieved 23.6 per cent.
Cường attributed this to the economic revival, higher average incomes and the increased demand for electrical, electronic home appliances and technology devices like mobile phones and tablets.
The HCM City-listed Mobile World Group is the leader in mobile phone sales with a market share of 30 per cent, followed by FPT with 10 per cent.
Nguyễn Kim has a 12 per cent share of the electrical and electronic appliances market with Điện Máy Xanh of Mobile World Group ranking second with 8 per cent.
The conference was organised by the HCM Stock Exchange and VietinBank Securities Company.
Consumer spending slows down in March
Consumer spending slowed down this month after posting a rise in February which also saw the Tết (Lunar New Year).
According to the General Statistics Office (GSO), purchasing power in March decreased by 3.4 per cent against the previous month.
Vũ Mạnh Hà, the GSO's economist, said that the slowdown in spending was because consumers had tightened their belts after splurging for the traditional holiday.
Statistics revealed that purchasing power decreased across all sectors. The retail sale of goods and services, which accounted for three thirds of the total retail sale, fell by 1.9 per cent in February while accommodation, restaurants and catering services were down by 13.1 per cent, and travelling services were down 12 per cent.
The weak consumer spending in March dragged the growth rate down in purchasing power in the first quarter of this year.
GSO said that the total retail sale of goods and services reached more than VNĐ859.5 trillion (US$39.9 billion) in the first three months of this year, representing a rise of 9.1 per cent against the same period last year.
If inflation was excluded, the growth rate was 7.9 per cent, lower than the 9.2 per cent growth rate registered in the first quarter of 2015.
According to Hà, consumer spending slowing down in March was partly because of a light increase in prices. The GSO's statistics revealed last week that the consumer price index (CPI) rose by 1.25 per cent in the first quarter of this year compared to last year's same period.
Hải Phòng, Hải Dương and HCM City were among provinces and cities that registered double-digit growth in purchasing power.
The total retail sales of goods and services last year touched VNĐ3.243 trillion, up 9.5 per cent against 2014.