Viet Nam is expected to enjoy a trade surplus of US$500 million this year, with its total export turnover at $146 billion and import turnover at $145.5 billion.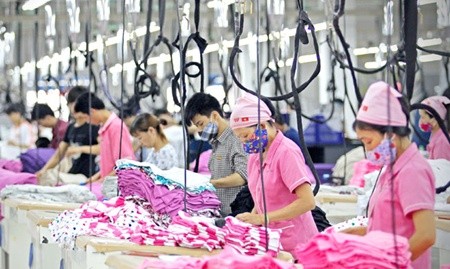 A sewing line at Korean garment company Shinwon Ebenezer Ha Noi Ltd Co based in the northern province of Thai Nguyen (Photo: VNA/VNS)
Nguyen Tien Vy, head of the Ministry of Industry and Trade's Planning Department, told a press conference in Ha Noi yesterday that while the export turnover would be 10.6 per cent higher than the previous year, import turnover would see a 10.2 per cent year-on-year increase.
Statistics from the ministry showed that in the first half of the year, the country's exports saw encouraging results with a turnover of $70.88 billion which accounted for 48 per cent of the entire year's target. Exports of foreign direct investment (FDI) enterprises excluding crude oil rose 17 per cent, and accounted for 62 per cent of the total while that of domestic firms increased 11.5 per cent.
"Export structure had also positively changed as exports of processing products played a key role in the total turnover growth while those of materials and minerals had decreased," Vy said.
Exports of processing products reached $50.9 billion in the January-June period, accounting for 72 per cent of the total, and rose 16 per cent over the same period last year.
Agro-forest and fisheries exports in the same period rose 13.6 per cent in comparison with the corresponding period last year, bringing $11 billion to the country.
He emphasised that Viet Nam has 13 items with an export turnover of more than $1 billion each while the number of such products last year was 12. These were telephone instruments and spare parts, garments and textiles and shoes.
Computers, electronic products and spare parts were other items that did over $1 billion each in exports. Machines, equipment, crude oil and seafood along with wood and wooden products also contributed to this export kitty. Transport vehicles, coffee, rice, and handbags completed the list of products with a $1 billion each in export turnover.
He added that Viet Nam's exports to its main markets saw a rise against the same period last year. These markets were Latin America with 24 per cent, Asia with 11 per cent, Europe with 10.8 per cent and Africa with 10.4 per cent.
Its imports in the period reached $69.5 billion, representing an 11 per cent year-on-year increase. The main imported products were machines and equipment.
Viet Nam enjoyed a $1.32 billion trade surplus in the six-month period.
However, Phan Thi Dieu Ha, deputy head of the ministry's Import-Export Department, said the country should have a long-term strategy to resolve the situation of bumper crops and dropping prices.
In May and June, exports of agricultural products such as fruits, rice and rubber to China were at 7.8 per cent, dropping by 2.5 per cent, showing a decrease of $219 million in export turnover during this period.
Meanwhile, striking a trade balance with China remains a big challenge for Viet Nam, which ran up a huge trade deficit of around $13.057 billion (up 10.1 per cent) with its neighbour in the first half of this year.
Major imported products from China included machinery, equipment, materials and fuel for infrastructure development, domestic production and outsourcing for exports.
To complete the target of $146 billion export earnings for this year, businesses have been advised to make full use of free trade agreements (FTAs) and upgrade technology so as to boost exports and reduce import surplus.
"With the current growth rate of exports in the first half, the country would meet the target of 10 per cent increase this year," she added.
Plan to develop
The ministry, yesterday, also announced the overall development planning of the country's industrial sector by 2025 with a vision for 2030.
Under this planning, the Government would give priority to three industrial groups namely manufacturing, electronics and telecommunications, and new and recycled energies.
There would be a focus on 10 sectors including mechanics, chemicals and electronics along with garments and textiles. Leather shoes, agro-forests and fisheries processing would also be looked at. Information and technologies, foods and beverage, will also feature in this list. Building material production, mineral exploitation and processing along with electricity, coal and oil make up the other sectors there will be a focus on.
It also mapped out a development plan for the support industry which concentrated on three sectors including mechanics and electronics, information and technologies, and garments and textiles.
Industrial clusters of the support industry would be built in Ha Noi, Vinh Phuc and Bac Ninh. Hung Yen, Hai Phong and Dong Nai along with Ba Ria-Vung Tau, Binh Duong, Tay Ninh and Da Nang would also have such clusters.
It is expected that Viet Nam's industrial sector would have the ability to become more globalised in some fields by 2025. It would also develop most of the industrial sectors with advanced technologies and products meeting with international standards and saving energies, by 2030.
The ministry said that 70 to 75 per cent of the investment into implementation of the planning would come from businesses of which FDI firms would make up 33 to 34 per cent.
There would be investment of the State budget into infrastructure, human resources and science and technology.