HCM CITY  (VNS) — Local companies in the maritime shipping market will have to struggle amidst fierce competition with experienced and well-funded players from abroad, as they battle for dwindling orders.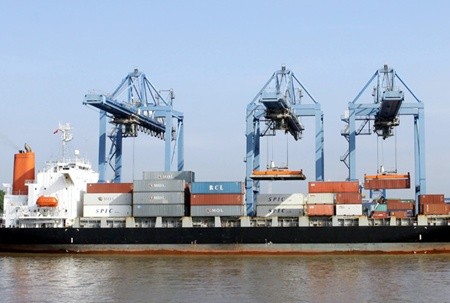 Goods loaded for export in Cat Lai Port, HCM City. Local companies in the shipping market face tough times amidst fierce competition with experienced and well-funded players from abroad. — VNA/VNS Photo Thanh Vu
Many Vietnamese shipping firms struggle with bad debts and have had to sell some vessels to cover business costs, after attempts to cut fees for orders.
The situation was described by Trinh The Cuong, head of transport and freight services at the Viet Nam Maritime Administration (VMA), at this week's workshop entitled "Competing in maritime shipping: Experience from Japan".
The workshop was held jointly by the Viet Nam Competition Administration Department (VCAD) and Japan International Cooperation Agency (JICA).
According to VMA's statistics, as of June 31, 2013, Viet Nam's fleet has 1,788 vessels, 4.3 million GT, 6.9 million DWT; 577 ship owners, including 33 state-owned, 544 private; 49 seaports and 300 wharves.
However, Vietnamese firms only hold 15 per cent of the market share, leaving foreign maritime shipping firms with as much as 85 per cent of the domestic market and 100 per cent of orders to America and Europe.
The shorter order list and higher fees add more pressure to domestic shippers. Also, the period of 2014-16 is expected to see a many orders for shipping cut throughout the world.
Tran Thi Phuong Nhung, of competition supervision and administration under the VCAD, said that foreign firms compete with large fleets and sub-fees, including port congestion, exchange rates, and cargo loading. While local firms rely on primary techniques, such as experience and costs.
Vietnamese shipping firms, despite their small scale and fragmented operations, have chosen to use unfair competition in price to win service contracts, rather than working with each other for further development. This causes local businesses to be less competitive than foreign companies in the shipping market.
Another fact is that while the domestic shipping firms are competing with each other, the largest shipping groups in the world have been gradually integrating into Viet Nam's shipping market and dominating the market.
At the same time, Viet Nam is ramping up seaport infrastructure and shipping services with the goal of turning maritime shipping into one of the top sea-based economic sectors after 2020, contributing 53-55 per cent of the country's gross domestic product (GDP).
VMA suggested that Viet Nam should quicken administrative reforms in related fields and devise legal documents and strategies, in line with Viet Nam's law and international conventions, to which the country is a member.
Viet Nam has joined 22 international conventions, treaties and protocols, and signed 22 bilateral maritime pacts with many countries.