Viet Nam is likely to become a global manufacturing and processing hub and a destination for multinationals in the next 20 years, an international conference has heard.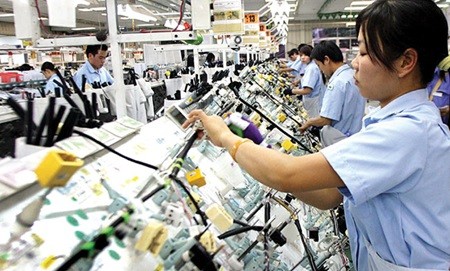 Employees manufacture car electric wires at the Sumi-Hanel Company at the Sai Dong B Industrial Zone in Ha Noi. Experts say that Viet Nam is likely to become a global manufacturing and processing hub and a destination for multinationals in the next 20 years. (Photo: VNA/VNS)
Participants at the conference in Ha Noi on Saturday said the shifting of foreign investment flows, the country's potential and its accession to many free trade agreements are among the factors that would cause this.
ANZ's chief economist for the Asia-Pacific, Glenn Maguire, said the capital flows have changed with foreign direct investment pulling out of China since the country is moving away from manufacturing and towards the services and consumer sectors.
Viet Nam, which is a member of a slew of major free trade zones, has a large area and cheap labour and is located between the three big countries in Asia (China, India and Indonesia), possesses huge advantages, he said.
He said he believed Viet Nam would become a large economy in ASEAN and a new processing hub of the world in the next 15-20 years.
Nguyen Kim Anh, deputy governor of the State Bank of Viet Nam, concurred with Maguire, saying foreign investment is shifting from China to Viet Nam and other Southeast Asian nations.
The Government has shown great determination in developing the manufacturing and processing sectors and taken measures to attract more investments into them, he said.
Central bank governor Nguyen Van Binh said the manufacturing sector plays an important role in the country's economic growth, adding that the industry has attracted much attention from foreign investors.
Eighty out of 101 countries and territories investing in Viet Nam have a presence in the sector.
The share of manufacturing and processing in total business investment is increasing every year, rising from 50 per cent in 2011 to 72 per cent last year.
The World Bank's Viet Nam country director, Victoria Kwakwa, said Viet Nam should simultaneously increase investment in infrastructure and logistics and improve its human resources and market economy institutions to become a global processing and manufacturing hub.
She said the local content in Vietnamese products remains low, which shows the limited connectivity between Vietnamese businesses and the global value chain as well as the weakness of domestic private businesses.
Yoshihisa Nishimuro, vice president of the Japanese Business Association in Viet Nam, said the Government should have policies tailored specifically for manufacturing and processing to attract investment and more high-quality human resources from abroad.
Nguyen Thien Nhan, president of the Viet Nam Father Land Front Central Committee, stated Viet Nam should make an accurate assessment of global trends and its resources.
The country can attract foreign companies thanks to its cheaper labour costs, but how long it can utilise this advantage should be studied thoroughly, he said.
He also stressed the need to promote the use of technologies.