New solutions that the Government should apply for the national economy during the recovery period will be discussed at a seminar, "the role of monetary policy in the Vietnamese economy in its post-recession period," to be held in Da Lat City August 28.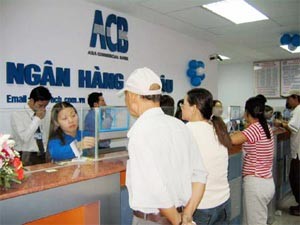 Customers at a branch of the Asia Commercial Bank in Ho Chi Minh City. A seminar will be held on August 28 in Da Lat to discuss new monetary policies for Vietnam's economy in its post-recession period (Photo: www.thuongmaidichvu.vn)
Experts will attend the seminar, jointly organized by the State Bank of Vietnam, Lam Dong Province's People Committee and Party Committee, and Sai Gon Giai Phong.
The pool of expertise will be drawn from ministries, provinces and cities, universities, research institutes, business associations, commercial banks and financial institutions.
It will review Vietnam's measures to cope with the international economic recession, and assess the efficiency brought about by those measures. Based on which, it will make proposals for running the national economy.
Currently, small-and medium-sized enterprises (SMEs), cooperatives and trade villages are facing difficulties in accessing incentive loans, particularly in rural areas, said SGGP Editor-in-Chief Tran The Tuyen.
"They are subjects that need to be given more support, including subsidized loans," he said.
Therefore, how to continue policies and measures, including those on exchange rates, loan interest, debt rearrangement, investment in rural areas, and supporting businesses in the post-recession period, need to be discussed comprehensively at the seminar, he suggested.
At its regular meeting in July, the Government said that as a result of its economic stimulus packages, the national economy showed signs of recovery and can gain a GDP growth of more than five percent this year.
According to a survey by the Vietnam Chamber of Commerce and Industry, 91 percent of SMEs have been able to maintain their operations thanks to support from the stimulus packages.
However, due to the current complications in world economic development, especially in large economies such as the US, Japan and EU, the Vietnamese economy will still face difficulties in the rest of the year and even some time later, the Government warned.
The Government has called for relevant agencies to review past macro-economic management, learn from the experience and suggest solutions to continue stabilizing the macro-economy.