For the first quarter of 2016, the country's rice exports reached 1.59 million tons, an increase of 41.6 percent in volume and 40.8 percent in value against last year.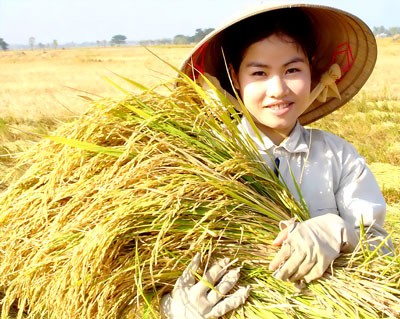 Rice prices are on the rise in the Mekong Delta -SGGP
Indonesia became Vietnam's largest rice importer for the begining of this year, accounting for 31.42 percent of the market share, followed by China at 17.15 percent of the market share.
In the country, the rice prices from the winter –spring crop in the Mekong Delta are on the rise because China has sped up to buy rice from Vietnam.
In An Giang, fresh rice IR50404 increases VND 450 per kg from VND 4,550 to 5,000 per kg; rice OM 2717 up from VND 4,700 to VND 4,950; dried rice from VND 5,100 to 5,700 per kg.
In Bac Lieu, fresh rice hikes from VND 4,600 to 5,000 per kg; dried rice from VND 5,400 to 6,000…
On the other hand, farmers in Thot Not, Co Do of the Mekong Delta province of Can Tho yesterday sold rice at a cost of VND 6,200 to 6,300 per kg to traders.
The price level is higher VND 1,000 per kg against last end-February and VND 2,000 over end-January 2016. It is higest price level from the beginning of this crop.
According to Vietnam Food Association, dried rice prices in the Mekong Delta swing from VND 5,500 to 5,600 per kg and rice with 5 percent broken rice is sold at the price of VND 7,950 to 8,050 per kg.
This increase has caused farmers happy but enterprises are facing difficulties because they had signed export contract at the time when the prices were lower.
Currently, rice with 5 percent broken rice in Vietnam costs US$ 380-390 tons while Thailands' rice is US$ 360 tons therefore Vietnam's rice is hard to sell to the world's market.